Brad Washington; Rick Ross, Yes Hip Hop Star has rebounded by making great music…
(ThyBlackMan.com) Since 2006, rapper William L. Roberts better known to the world as Rick Ross (naming himself after former notorious drug dealer "free way" Rick Ross), has been a prominent force in hip hop since dropping the classic street single Hustlin. He quickly identified himself as a cocaine dealer on the streets of Miami, and helped the boom of coke rap that already had Young Jeezy, Clipse etc. Soon followed Trilla in 2008 and went number 1 on the pop charts and also went Gold as well.
Now I've learned through the years, that personas that rap artists present us are usually something marketed by the record label. Do these rappers sell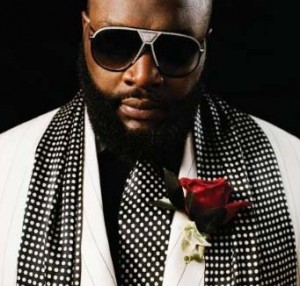 drugs like Nino Brown and walk down the street with an Assault Rifle? The chances are higher that you will see a baby driving. But do they sell it to you because they know there are naïve people out there? Frankly, that is true. Ross lived, breathed, and slept he was similar too Freeway Ross in the public eye, and wasn't too much regarded as a lyricist despite his success.
Of course after the release of Trilla, leaked photos of a young Ross being a Correctional Officer leaked all over the net. And at the time his career and let alone, his persona as a coke dealer took a big hit. Ross denying the charges didn't help his cause after his social security and other facts matched what was on record with his former occupation. Taunts and a beef with 50 Cent ensued. So what did the man ridiculed as "Officer Ricky" was suppose to do next?
For many in the music business scandals and beefs have ended and slowed down many careers. Prodigy of Mobb Deep was exposed by Jay-Z at Summer Jam in 2001 wearing Michael Jackson-type dance clothing in his youth. Mobb Deep was never the same. Ja Rule career never recovered as well after 50 Cent pointed out that thugs don't sing songs. Plies and Akon, both whom at the peak of their careers, were both exposed as never having any kind of criminal record, despite the content of Plies being a big time drug dealer and AK carrier on songs like Worth Goin Fed Fo/Goons Lurkin  and Akon's prison sad song of Locked up. But there have been artists such as R. Kelly who rebounded well despite turmoil. We know that he had a case of allegedly being in a sex tape with a minor, but the negative press he received nearly brought his successful career down in flames. But the simple formula R. Kelly made to keep his career going? Make good music. That he did. The next 4 albums he released either went multi-platinum or platinum and 3 of them debuted number 1 on the Billboard 200.
Ross implemented that strategy, aggressively going after 50 Cent, and addressing the Correctional Officer past he tried to hide head on with the acclaimed Valley of Death record. A mixture of good radio-friendly singles such as Magnificent, focusing on improving his lyrics, and still holding on to the persona of a dope boy, Ross had another number 1 album with the release of Teflon Don in April 2009. The tactic worked in his favor, and in 2010, Ross had his most acclaimed year yet. He released another Gold-certified and number 1 album in Teflon Don and is his best work to date according to critics. His single (B.M.F.) Blowin Money Fast, is perhaps his best single since Hustlin, and songs like I'm Not A Star and MC Hammer seemed to earn Ross the thing he's been longing for the most: His creditability. Not to mention he had one of the verses of the year on label mate Kanye West's Devil In A New Dress. Ross made great music and now he is one of hip hop's hottest acts out now.
Now Ross is pirating his Maybach Music Group record company, as raps premier label. Acts such as Wale, Meek Mill, and Pill have kept music listeners entertained with a variety of mix tapes and even all collaborating on a joint album called Self Made Vol. 1. Ross is now mentioned as a top rapper today. His fans either forgot he was a C.O. or never mind it. Rick Ross just responded by making hits and street records his fans loved, and focusing on the lyrical aspect of his rap talent. Many people have came and go in the game, but Ross can proudly say he is a survivor, even can say he's Big Meech as well.
Staff Writer; Brad Washington