Hip Hop, Yes Rappers Road to Riches and Diamond Rings…
(ThyBlackMan.com) Rappers are faced with "selling out" or staying true.  Both have their pros and cons, so which one to choose?
I remember as a kid in 4th grade, listening to Ja Rule on the radio and watching him on 106 & Park daily. Letting him remind me why, at the time he was my favorite rapper. Yeah, Ja started off as a hardcore rapper then switched it up on us singing with J-Lo Ashanti for some multi-platinum albums and hit singles. But as with a theme that happens a lot in the game today, some fans of his started scratching their heads at him slowly but surely. Then around 5th grade 2002-03 50 Cent came around with "Wanksta" and the dis record "Back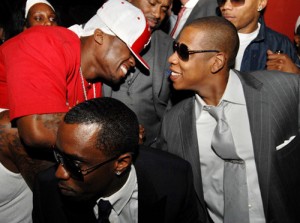 down" and as we all know, Ja Rule was never the same after that and fell of the radar completely in 2005. Sure, 50 Cent From 2002-2007 was a top dog in the game. But the same fate that happened to Ja happened to 50. Started singing and going for the charts and started losing credibility with his fans and the rap community as a whole.
A lot of rappers have to make the choice of sticking to their talents and providing good rap, or going with what the label wants: commercial music talking about commercial things. Money, women, drugs (smoking and selling) cars, and clothes are and always been a theme of rap for sometime. Also the hardcore image of being a drug dealer while also having many guns seems to have always been a factor in hip hop.  While some rappers seem to have had success without true commercialized content (Kanye West, Common) some had to gain commercial appeal to be truly recognized (Jay-Z and Nas and even Ja Rule) Had Jay-Z stayed in the form of Reasonable Doubt, he not only wouldn't be the man he is today, but he also wouldn't be the brand. Nas, who with the release in 1996 It was Written to 1999's I Am…and  Nastradamous, he sold millions with the new sound and provided radio-friendly songs. With that he found his greatest success. But also his most criticisms for shifting from raw rap filled with street tales to glossy songs with the likes of Ginuwine made for the pop charts. He soon returned to form with his Stillmatic effort in 2001 and has continued on that path, dropping critically acclaimed albums since.
So the real question is: Do you stay non commercial with the chances decreased for appeal, or do you follow the trends and methods of success on the road to the riches. It's difficult but it may help separate you from having your own business or like how Kanye describes it a rapper who is "now a A&R in a cheap office" Usually some rappers who stayed true to their talents and musical direction faded out are now record executives and play the role of A&R for many companies. For rappers like Rick Ross, the choice was easy: keep talking cocaine. Ross has never strayed away from moving keys in his music. Of the 4 albums he's released he's had 3 of them go number 1 on the pop charts and 3 certified Gold. The pro of that strategy is that your fans will probably never leave because of your originality and staying true to your content. The con is that some people are going to get tired of hearing it and want a deeper and different collection of songs. They may see Ross as an ex CO, who is 35, and still talking about pushing coke. This in reality can be illogical.
For Talib Kweli, Mos Def and other non-commercial rappers, The pros are that no one can ever say he can't rap. A lot of his music will never be heard by the masses because usually only true hip hop heads check Kweli out. The con is he isn't marketable content wise so multiple platinum albums isn't in his future. It's sad that talented MC's like Kweli and even up-and-comer J. Cole struggle for radio play while novelty acts such as YC gets lots of radio spins. But that's how the music business works. A lot of talented rappers never break through because they refuse to have the dope boy trademarks of Young Jeezy or the lavish Escobar-ish raps of Rick Ross.
Sometimes for an aspiring MC, the road to platinum records relies in expressing about material things. A rapper must then decide is being appreciated for bringing the art life more important than a few number one hits. It's why guys like J. Cole this year and Drake last year are so celebrated because they are actual good rappers they seem to have broken hip hop from the dance craze era of 2005-2009. But with all being said, we must remember that rappers are employers first. Record Execs are trying to find ways to put more money in their pockets and sex, guns etc. is going to be their quick-fast-in-a-hurry way of staying alive in the music business. Being underpaid or overrated. It all depends on the artist and their true intentions.
Staff Writer; Brad Washington