Dr. Boyce Watkins; WVON Fires Host, Thanks To Financial Pressure from McDonald's…
(ThyBlackMan.com) I've never met Lenny McAllister, a former host on WVON 1690 in Chicago.  The only thing I know is that Lenny is a Republican (which I am not), and that WVON was once my favorite radio station in the entire country.  The station, in my mind, has always represented the essence and history of the South Side of Chicago,  a place that is near and dear to my heart.
The other thing I know about Lenny is that he was fired from WVON apparently for helping another black man in need.  My head cocked to the side when I heard about Lenny's dismissal, in large part because it is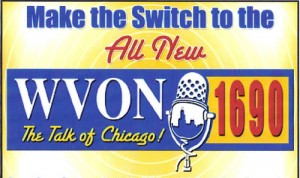 uncharacteristic of a station that stands for civil rights to so readily violate the rights of a fellow African American.   But as usual, when one wants to find the root of unethical behavior, you only need to follow the money.
One of Lenny's mentees was a 21-year old student at Chicago State University.  The young man was working as a night manager at a local McDonald's in order to support his girlfriend and their 6-day old son.  He was an outstanding member of the school's ROTC and set to be deployed to the Middle East later that year.
Unfortunately, the student's son died in early July.  McAllister claims that the young man then called his boss, Keith Allen, to ask him if he could take the day off to make funeral arrangements for his child.  The owner then allegedly told the young man that he would be fired if he didn't come to work.   So, the young man did what most of us would do – he spent the day with his grieving girlfriend and planned to bury his child.
McAllister tried to help the boy by going to the airwaves and calling for his listeners to boycott Allen's McDonald's franchises.  Allen apparently owns five McDonald's restaurants in the area, and McAllister felt that the community should take a "holiday" away from the businesses owned by a black man who would fire a brother who'd just experienced such a tragic loss.
According to McAllister:  "If this was a white business owner and a black college student, you'd all be marching down Martin Luther King Drive (in Chicago) singing, 'We Shall Overcome.' Well, this is a black business owner and a black college student willing to serve our country and care for his family. What are you going to do about it?"
When listeners were responding to McAllister's on-air call for a boycott (the local NAACP chapter also supported it), that's when things got interesting.  WVON reportedly received a call from a representative of BMOA (the Black McDonald's Owners of America), who threatened to pull all advertising away from WVON if the boycott were not called off.
McAllister raised enough money in donations to pay for the funeral for his mentee's son and he promptly ended the boycott.  After wining a hard fought battle on behalf of another brother, McAllister was allegedly fired from WVON the following day (he was told that his position was "under review" – translation:  "We're trying to find a reason to get rid of you").
The story of Lenny McAllister makes me want to put on my Finance Professor hat for just a second.  As I've reiterated in the past, money is powerful, like a drug.  A drug can either heal you and make you strong, or it can turn you into an addict.  One of the great challenges of the financially-starved, yet exceedingly materialistic  African American community is that we've become convinced that financial gain is an excuse for almost any egregious and unethical decision we might make:  The NAACP finds it acceptable to take money from a bank (Wells Fargo) accused of Predatory Lending, BET's quest for corporate sponsorship makes them an accomplice to the promotion of some of the most damaging psychological poison in our society, and now a storied station like WVON runs away from doing the right thing because a wealthy corporation has basically extorted their commitment to civil rights.
Let's be clear:  Mr. Allen was wrong to fire this young man in light of his family's condition.  Allen likely did not anticipate that Mr. McAllister would stand up for the young man in the way that he did.   Once McAllister did the right thing by supporting the young man (which any decent black man would do), Allen simply tried to raise the stakes by resorting to the massive economic power of the McDonald's corporation.  At the end, WVON feels that it has no choice but to buckle – whether we're talking about actual drugs on the street or the powerful drug of money, an addict always folds to the pusher.
Well, the community doesn't have to buckle and I would define this situation to be a moment of truth.  The boycott started by Mr. McAllister against Mr. Allen's restaurants should be continued by all of those in the Chicago community who believe in the importance of doing what is right.  We're not all part of the vast corporate puppetry controlled by McDonald's and WVON can't fire us all.  Based on the facts that that have been presented to me, the moral high ground is clear: firing this young man in the midst of such a horrific tragedy is simply unconscionable, and no amount of money should make us believe otherwise.
Staff Writer; Dr. Boyce Watkins
Dr. Boyce Watkins is the founder of the Your Black World Coalition. For more information, please visit http://BoyceWatkins.com.