Scott Talley; People are power, ARISE Detroit…
(ThyBlackMan.com)  5th Annual ARISE Detroit! Neighborhoods Day will shine positive light on the Motor City…
We all need role models to successfully reach a productive, peaceful destination as we navigate through the journey of life.
As a child, I was blessed with two loving parents, who instilled in me an appreciation for education, wholesome family values, hard work and service to people in need. 
Watching my mom—an elementary school teacher beloved by students and parents for 40 years—and my dad—a distinguished city of Detroit civil servant, who brought the highest level of pride, care and competency to any task he took on—there was never any doubt as a youngster that I had my own job to do and standards that had to be met.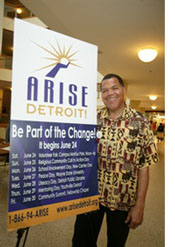 However, we also need role models outside of our families, and as I began to ponder a career in journalism, I looked for African American men in the field who were doing good things in my city.  One of the men I began to follow was Luther Keith.
A member of the Michigan Journalism Hall of Fame, Keith established several firsts in Detroit, including the first African American sports reporter at a major Detroit daily and the first African American assigned to cover the state capitol.  By the time I became aware of Keith, during my high school days at Detroit Cass Tech, he was the first African American newsroom editor at the Detroit News in 1982. And around the time my high school days were nearing an end, Keith became the founding director of the Journalism Institute for Minorities at Wayne State University. 
I would later work at the Detroit Free Press, rival to the Detroit News in my hometown.  My career path would span the newspaper and public relations industries, but while my love for writing still burned strong, I also began to understand that I would never have career fulfillment unless my work served a greater purpose.  Once again I found a role model in Luther Keith.
Today, Luther Keith is executive director of ARISE Detroit! As dynamic as its name suggests, Keith's organization is on a mission to launch a new wave of volunteerism for the many worthwhile programs and activities that are fighting the good fight to address critical issues in the city including illiteracy, high school dropout rates, crime and youth violence, drug abuse, domestic abuse, neighborhood blight and unemployment. 
The more than 300 ARISE Detroit! member organizations share a belief that the city is asset rich, once we connect with the hearts and minds of Detroit citizens, and that spirit will be on display during the 5th Annual ARISE Detroit! Neighborhoods Day scheduled for Saturday, Aug. 6. 
From sunup to sundown, from the far eastside to southwest Detroit, more than 100 events will be humming including community cleanups, health fairs, block parties, youth concerts, and house building and restoration.  
"We want the nation and the world to see this other side of Detroit—thousands of people coming together in a spectacular demonstration of community pride," Keith says.  "Neighborhoods Day is about the real heart and soul of the city, the people who will not give up on our children and families.
"They are not just true believers—they are people who believe in working for a better Detroit."
One of the believers who responded to Keith's call is Dr. Herb Martin, executive director of the Center for Literacy & Creativity (CLC), a charter school on Detroit's west side.   A new addition to the ARISE Detroit! membership roster, CLC will host a Quiz Bowl targeting K-8 students.
"The future is now," says Martin, whose school features a technology-based curriculum.  "As a community, as a region and as a nation, we must prepare our youth to master and advance technology for the betterment of our society.  And I cannot think of a better time to do it than on a day when we are promoting community involvement and uplifting our city."
Many positive descriptions come to mind when I think of the thousands of people of all ages who will come together on Aug. 6 to show the bright side of my city.  One of those descriptions is "role model," and high on that role model list is a good man named Luther Keith.  I am proud to say he has inspired me throughout my career, and I am proud that my efforts will make a difference on Aug. 6 when I join my community on Neighborhoods Day.
To learn more about ARISE Detroit! please visit http://www.arisedetroit.org.
Staff Writer; Scott Talley
This talented journalist is owner of a public relations firm; Scott Talley & Associates, Inc….