Dr. Boyce Watkins; What we can learn from the Murder of 5-Year Old Shaniya Davis and the Mother Who Helped her Die…
(ThyBlackMan.com) The mother of a 5-year old girl who went missing in Fayetteville, North Carolina has been indicted on murder charges.  Antoinette Nicole Davis has been charged with the murder of Shaniya Davis, facing charges of first degree murder, indecent liberties with a child, felony child abuse, felony sexual servitude, rape of a child, sexual offense of a child by an adult offender, human trafficking and making a false police report.  Her bond has been set at $1.5 million.
The little girl was reported missing from her home in Cumberland County in November, 2009.  She was later found in the weeds near the county line.  A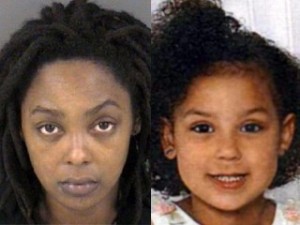 friend of Shaniya's mother, Mario McNeil, was arrested for the kidnapping of Shaniya after surveillance footage from a local hotel showed him carrying her.  He allegedly raped and murdered her shortly thereafter.
The autopsy showed that the girl died from asphyxiation.  Police believe that Shaniya's mother gave her to McNeil in order to settle a drug debt.
As a parent, there is nothing more vile, sickening and hurtful than to hear about harm coming to a child.  I can't watch the surveillance video of this little girl without wishing in my heart that I could go back in time and save her from the monsters who had her in their care.   The sincerity, trust and unconditional love provided by our children is not always earned by the parent, with Ms. Davis and Mr. McNeil serving as obvious cases in point.
This situation also reminds us of the terrible power of drugs and how items exist in our community that can make a mother engage in the most unnatural act of giving away her own child to a predator.   When Shaniya's mother is sober, the reality of what she's done to her daughter will serve as a never ending alarm bell laced with the pain of knowing that you've done the unthinkable.  It is clear that she is in need of treatment as much as prison, and some might question whether she should be allowed to raise a child ever again.
Avoiding the temptation of substance abuse is a clear message from this horrific tale.  Additionally, we must all speak up and out when we see children in our community who are being abused.  It's quite likely that there were friends or relatives of Shaniya's mother who were aware of the problem long ago and simply chose to mind their own business.  Protecting our children is business that belongs to ALL of us, and a strong village might have saved this little girl's life.
Staff Writer; Dr. Boyce Watkins
Dr. Boyce Watkins is the founder of the Your Black World Coalition. For more information, please visit http://BoyceWatkins.com.