60 Minutes' Byron Pitts and the N-Word: The Need For Top-Down Reprogramming…
(ThyBlackMan.com) "The Eurocentric educational philosophy will not provide you with the tools to conquer a system that oppresses you." — Dr. Asa Hilliard, 1933 – 2007
Visualize a circle about the size of a grapefruit, and imagine that the space inside this circle represents an individual's total, inclusive realm of knowledge. At the same time, this same individual is also mindful that there is more knowledge outside of their particular circumference of awareness. However, when somebody reveals some new piece of information – something outside this individual's circumference of awareness – it does not mean that they are necessarily wrong, but it does mean that this is new information that the individual must somehow work to process. And,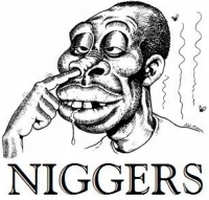 honestly, whether the information is "good" or "bad", it is not always immediately accepted because it may not agree with one's current understanding.
It is a given and definitely a guarantee that the contents of this article is going to be upsetting to some people. Nonetheless, it must be pointed out how the black community, on the whole – from the most educated to the least educated – have been programmed, or conditioned, to retaliate and reject anything that sits outside their circle or circumference of awareness – particularly regarding the black culture and the truth about the black experience – and its effects upon the black community's psyche.
Johann Wolfgang von Gothe, 1749-1832, once stated that "[n]one are more hopelessly enslaved than those who falsely believe they are free." The purpose is to initiate the process of undoing or reversing ideas and concepts which have been programmed into the minds of many Black African Americans. This programming has caused them to adopt a belief system that has resulted in their loss of contact with what is real, factual, historical and spiritually sound.
University of Oregon professor David Bradley appeared on "60 Minutes" Sunday, March 20, 2011. CBS chief national correspondent Byron Pitts narrated this discussion as the newsmagazine explored the controversy over a new edition of "Huckleberry Finn" that substitutes "slave" for the N-word. Professor Bradley and Mr. Pitts – two highly-regarded and esteemed gentleman – unknowingly and unsuspectingly – allowed themselves to be bullied by an institutionalized systemic. This system is designed to adversely manipulate and shape the minds and collective perceptions of America's Black population by subjecting them to seeing only the fraudulent worst in themselves.
In their support of retaining the n-word in Huck Finn, there was the clear implication that Black America's embracing and so-called endearing use of the pejorative term meets with their approval just as well. Their tone and rhetoric validates the reality that the city school systems, colleges, universities and media are not going to provide the kind of information that will help build the self-esteem of a black student. No traditional system in America is going to allow free and continuous existence of an information stream that can effectively assist in freeing and releasing one's mind away from American-European intellectual dominance. Mr. Pitts and Professor Bradley's demeanors serve as testimony to their victimization of this systemic. Even more unfortunate is that these individuals own the clout and resources to assist in effectively reaching and influencing millions of black Americans to reform their mentalities; however, they are unable to see their own need for "reprogramming".
White people refer to each other as redneck or cracker, yet, their use is considerably different from Blacks' use of the n-word. The difference? Whites, from "jumpstreet", have defined themselves by these terms. They were not defined or given these names by another race, whose efforts would have been to promote cultural degradation, fear, or psychological inferiority. As such, White America would never self-internalize the term "blue eyed devil", which is the label given them by the Nation of Islam. Even though the terms redneck and cracker are demeaning, they seem to be more acceptable in White America – and America generally – because, again, they defined themselves by these terms.
Contrarily, contemporary Black America resigns to be defined by the very institution that dehumanized and enslaved their ancestry; they continue to accept a term drenched in ignorance, death, bloodshed, terror and carnage. A wise person knows that one never accepts someone else's definition of you… you DEFINE yourself. (Note: Using the ghetto vernacular "n**ga" rather than "n**ger" does not qualify as a "self-defining" term.)
Today, when one hears black people using "n**ga" as part of their so-called private social vocabulary, it should be understood that they learned the word and its usage from the very institution whose intent and purpose was to not only enslave them physically but MENTALLY as well. The n-word serves as a self-refueling, self-generating psychological conduit to an on-going and never-ending slave mentality. Since 1865, Black America has yet to show that it has the strength to free itself from the mental bondage of the n-word. Unable to handle the truth, they instead defer to irrational and lame excuses in allowing themselves to submissively surrender to a word that owns them in heart, mind and soul.
Even though modern day use of the term attempts to reduce the idiom to nothing more than a racial slur, which seems to indicate that context can change words, context cannot change history. The n-word's demonic and diabolical history cannot be sanitized, cleansed, inverted, or redeemed as a culturally liberating word. N**ga cannot and should not be acceptable no matter the context of its use, the mouth the word is ignorantly spat from, or the unjustifiable excuse tossed out for using it.
Each time Black people refer to each other as a "n**ger" or "n**ga" in a sense of so-called endearment, Black Americans desecrate and dishonor the memories and spirits of the slave forefathers, forgetting their history and the great pains and struggles they suffered in this country. It is current day Blacks' duty and call to accord African-American ancestors a better place in the black race's collective memory.
Blacks must continue to follow-up and relentlessly work toward changing the thinking of the black community – the young and the old, and drive them to more positive and noble pursuits. The black community must share the serum of healthy self-respect with others most in need of hope. The black community can have tremendous impact and become that agent of change. However, the collective black community must first believe it has the ability to make the change, and take strides at every level to re-program the black community's psyche to restore the dignity, respect, and cultural pride that once reigned at the very essence of the black race.
Written By H. Lewis Smith
Official website; http://www.theunitedvoices.com