Why 2010 was a bad year for black films…
(ThyBlackMan.com) In late 2009 there was every reason to believe we were on the cusp of a banner year for black films. Precious, despite some outspoken detractors, was a bonafide critical and (albeit modest) commercial success. That March, the film took home well-deserved best supporting actress and even more rare (for an African-American) screenplay Oscars. A film with a far from commercial subject matter featuring blacks both behind and in front of the camera had broken through and some wondered: Are we in store for a sea change?
But then a slate of mediocre films hit the multiplexes, and yet again we see a paltry number of black-themed films making an impact. 2010's many top 10 lists are dominated by great films with virtually no cast members of color.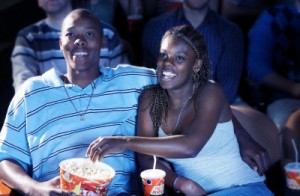 Few would argue that films like The Social Network, True Grit, Inception, and Black Swan are unworthy of praise, but they are definitely devoid of African-Americans.
So what happened? Well, for starters some of the great black movie hopes of the year wound up either disappointing or downright polarizing audiences.
This year Tyler Perry was even more productive than usual, dropping two major movies: Why Did I Get Married Too? and For Colored Girls. The former was mostly a forgettable farce and the latter inspired both rapturous praise and angry derision. Neither film won the kind of critical or commercial support necessary to propel either film into the best of the year conversation. In fact, despite considerable hype, For Colored Girls is in danger of becoming one of Perry's lowest grossing films.
The other widely released "black" films of 2010 didn't fare too much better. Chris Rock's Death of a Funeral didn't really distinguish itself. Lottery Ticket was considered cute but disposable. The action film Takers proved to be a decent-sized hit, but again it wasn't a film that anyone would remember as a classic.
As award season approaches, there is a distinct possibility that there won't be a single African-American nominated in a major Academy Award category for the first time since 2000. There will most likely be the usual griping about the lack of diversity when it comes to Hollywood's highest honor. But before the hating begins, black film fans should ask themselves: Is prejudice really behind the paucity of quality black films and roles or are we not spreading the love with our pocketbooks enough to get good work recognized?
Arguably the most highly praised black-themed film of the year, Night Catches Us has not been widely distributed or seen by many viewers to date (this writer included). Even though it stars up-and-coming talents Anthony Mackie and Kerry Washington it hasn't generated the same kind of buzz and discussion For Colored Girls did earlier in the year.
There were a few bright spots this year. Jaden Smith became a movie star in his own right with his wildly successful Karate Kid reboot. Denzel Washington reliably anchored two legitimate blockbusters this year, The Book of Eli and Unstoppable, but for the most part our tried and true black stars were AWOL this year. No Will Smith. No Eddie Murphy. And the stars that did show up were mostly in second banana roles (Morgan Freeman in Red, Don Cheadle in Iron Man 2, Viola Davis in Eat Pray Love just to name a few).
There is certainly enough African-American talent and star power to anchor quality movies these days but unfortunately it seems as though, with a few high profile exceptions, Hollywood still insists on relegating black performers to specific genres. Outside of Perry's unique, branded products — blacks seem to only be featured in broad comedies or action pictures. Sure, Yaya DaCosta showed up in the acclaimed drama The Kids Are All Right, but her role was underwritten and largely on the periphery. If you're an African-American moviegoer, who God forbid wants to see someone who looks like you or a story that reflects your culture on the big screen — it's become a challenge to say the least.
Reflecting on 2010 in film, few films featuring blacks made many "best of" lists, but on the bright side there are many promising pictures on the horizon — Halle Berry is winning early raves for her role as a woman struggling with multiple personality disorder in Frankie an Alice and black actors have proven uncommonly good at turning lemons into lemonade when it comes to secondary and supporting roles.
My only hope is that the lessons learned from the success of Precious have not already been forgotten. There is an under-served audience out there that craves films by and about black people. And these stories need not only be told by Tyler Perry or Spike Lee. As the nation grows more multicultural and attendance shrinks because other forms of entertainment are doing a better job with diversity, Hollywood could be the one left empty handed.
Written by Adam Howard
Official website; http://twitter.com/at_howard