Can Usain Bolt Cross the Big-Money Finish Line?
(ThyBlackMan.com) The world's most talented and most popular track star finds that setting world records is easier than crashing the circle of top earners. Here's what stands in his way to becoming a $10 million man.
Usain Bolt may be the world's fastest man, but so far he hasn't sped to the $10 million annual income that his agent envisioned in 2008.
That year Bolt set records in the 100 meters (9.69 seconds), 200 (19.30) and 4-by-100 meter relay (37.10 seconds) at the Beijing Olympics. Afterward, his agent, Ricky Simms, touted Bolt as the first track-and-field star to potentially earn $10 million in combined appearance fees, prize money and endorsements in a year. It hasn't happened yet.
It is not for lack of trying. On July 16, the triple gold-holder and world champion blazed down the 100-meter track during the IAAF Paris Diamond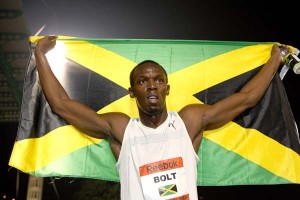 League competition in 9.84 seconds. Fellow Jamaican Asafa Powell came in second at 9.91.
So can Bolt reach his financial goal? By the way, Simms is also a director of Pace Sports Management, in London, which represents mostly black track-and-field athletes only, and Bolt is the firm's top talent.
Let's run the numbers of Bolt's earning potential. He has an estimated $1.5 million deal with Puma, which is owned by Adidas; a sponsorship deal with Digicel Group Limited, a cell phone operator with 10 million customers in 32 Caribbean, Pacific and Central America markets; and an endorsement deal with Gatorade's G Series worth an unknown amount.
As the hottest and best-known track star, he gets about $250,000 in appearance fees when he runs in major cities. To capitalize on that, the International Association of Athletics Federations, a marketing group for track-and-field athletes, created the Diamond League.
It showcases competitors in 14 events in 12 cities with lots of fans. These include Doha, Shanghai, Oslo, Rome, New York, Paris, Monaco (July 22), Stockholm (Aug. 6), London (Aug. 13) and Zurich (Aug. 19). The main attractions and money makers are Bolt and his key rivals, Asafa Powell and American Tyson Gay. Each will compete in seven Diamond events.
Bolt will make $1.75 million from the mandatory Diamond races, but he may not be in many others. He could sustain an injury, but more likely he will head to more lucrative events. The IAAF director of communications told The Wall Street Journal that the trio of elite runners will only go head-to-head three or four times. Bolt's absence, of course, hurts fellow Diamond athletes as fans turn out to see him run and win.
Bolt Is From a Small Island
The more races Bolt wins, the better. And when he breaks a world record, his value and attractiveness increases. But even so, his $10 million quest has problems. The biggest is that he is not an American, with all the jingoism, heat and paparazzi that status attracts. The Puma deal is also nice, but it ain't Nike money. Likewise, whatever Bolt makes from his Digicell endorsement, it is small change compared with what Verizon, AT&T or a natural endorser like Sprint could provide. The Gatorade deal is probably a good one, and he is featured in the ad.
No matter the excitement of its followers, track and field attracts scant attention in the United States. Bolt, 23, has great potential to cash in, but athletes in the popular sports, with bigger audiences and greater opportunities, rake in the most Benjamins.
In 2009, Forbes listed the world's highest-paid athletes and how they made their money. Tiger Woods was at the top with $110 million, in what may be one of his last truly lucrative years, unless he can get his putting, driving and life together.
He'll Still Make More Than Most of Us
The following two world-renowned athletes, in places and sports with large followings outside the United States, were far down the Forbes roster.
Lewis Hamilton, the Afro-British Formula One race car driver, made $32 million. Like Bolt, he was a youthful phenomenon, winning the Formula One World Championship at age 22 in 2008. Reebok signed him immediately as a "global brand ambassador."
At 17th on the Forbes list was Ronaldinho, the Brazilian superstar soccer player, whose flame has since diminished. He was left off Brazil's recent World Cup team. The two-time FIFA Player of the Year made $30 million in 2008. He was paid $9 million to play for FC Barcelona and later AC Milan. But the rest came from Nike, Pepsi and EA Sports in endorsement deals.
Unless there is a clamor for a video game featuring Bolt, whom you can follow on Facebook, he may make more money after each win. In 2010, based upon what is known about his income streams, he could earn between $3.5 million and $5 million. A wonderful sum, but it is unlikely Bolt will break the barrier to becoming a major athletic moneymaker.
Written By Frank McCoy