Senator Eric Adams to Young Black Men: 'Pull Your Pants Up!'…
(ThyBlackMan.com) New York state Senator Eric Adams is launching a campaign to discourage kids from wearing saggy pants. If only he could stop the skinny jeans phenomenon, then and only then will everything be right with the world.
If his campaign is successful, young men will be able to run, skip and even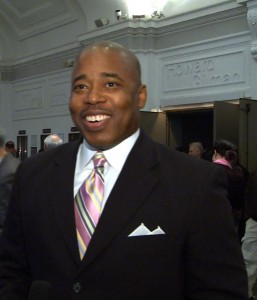 walk without looking like a bow-legged toddler.
The Brooklyn lawmaker released a YouTube video over the weekend to  encourage young people to demonstrate their confidence by pulling up their pants and ending the sagging pants trend.
For those unfamiliar, the trend involves a young man wearing his pants right above the knee, held there precariously by a belt. This leaves their boxer  underwear completely exposed for the potential catastrophe of a strong wind. The trend was started in the '80s, when pants were worn loose right below a guy's hips with a belt.
Adams also unveiled a new billboard campaign throughout the borough with phrases like, "Raise your pants, raise your image!" to encourage young Brooklynites to pull their pants up.
Watch his message here:
[youtube cj7v_Ntih2k]
Though blacks have started many fashion trends, there have been some failures – most of which were only realized as failures in retrospect. Is this just another fashion trend that adults are misunderstanding? Will it go away if we just pray? Should the state Senator focus his energy on more important topics? Let me know.
Written By Ericka Blount Danois