Patrick Mahomes: Quarterback of the future.
(ThyBlackMan.com) When Stephen Curry began to break out as an NBA star in the early 2010's decade, the shots that he took and made were something the NBA hadn't seen before. Shots that coaches in high school would typically cringe at; Curry would make at a routine rate. When Curry linked with Steve Kerr in 2014, Kerr provided the perfect system that would make NBA courts his playground for the next five seasons. Curry provided the blueprint for how basketball in general would be played.
In the same way, Patrick Mahomes for the Kansas City Chiefs is something the NFL hasn't quite seen before. A prodigious passer at Texas Tech, only football junkies caught on to the talent that Mahomes possessed. But since drafted by the Kansas City Chiefs aligning him with all-time great coach Andy Reid, Mahomes has shown that his no look, flashy quarterback play could make him the quarterback of the future. Mahomes is possibly giving football the blueprint for what passers will look like.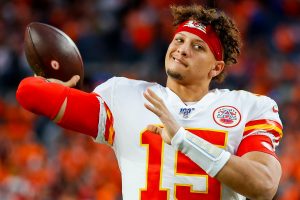 The millennial generation is accustomed to the traditional pocket passer: Tom Brady, Peyton Manning and Drew Brees were architects in the pocket while they shredded the record book. Aaron Rodgers was a combination of pocket passing elitism and Houdini scrambling magic, but it took him awhile to get on the field-a few more to be a star.
With Mahomes, he sat a year behind Alex Smith to learn the rigors of a pro-style offense and adapt to life in the NFL. The next year in 2018, he took the league by storm, throwing for 5000 yards and 50 touchdowns in route to an MVP. Mahomes joined fellow generational quarterback Manning as the only signal callers to post the 5k/50 stat line.
While Mahomes numbers has the star power that represents his prodigious start, it's his play on the field that ultimately sets him apart. His on-the-run throws, arm strength, no-look passes. Other quarterbacks have accomplished this play before, but not all have had the tools Mahomes possess, and achieved stardom so quickly. Quite possibly, young kids will not just want to play like Mahomes, but look like him, too. His white head band with his free-flying hair has easily become his look of sport.
This season, though Mahomes has had to battle a knee injury that has slowed down his progress from a year ago. Looking to capitalize on his MVP season, He's had to miss two and a half games, while adjusting to defensive coordinators and players using their offseason to counter his play. He hasn't exactly passed with flying colors, but he's quietly putting up a very productive MVP-defense campaign. He's thrown for 2808 yards and 19 touchdowns, to only two interceptions. Despite the setbacks, Mahomes numbers would be highly revered if they were by a, say, Mitch Trubisky.
But this will always be Mahomes normal: 2018 set the bar and trajectory for his future. NFL pundits and fans will expect a replica of his first full season: anything below that is a failure. Hopefully, he embraces the challenges of his expectations and rises to the occasion. Mahomes is the quarterback of the future, but most importantly, the quarterback African American youth can look up to.
Music Editor; Brad Washington
Also connect with this brother through Twitter; http://twitter.com/theGURO15.