Ezekiel Elliott's production-and durability is something the Cowboys should not take for granted.
(ThyBlackMan.com) Ezekiel Elliott could be immature.
He spoke out against his Ohio State football coaches after a loss against Michigan State his junior year. He was suspended for domestic violence allegations in the 2017 NFL season, and he has done plenty of other childish things in his three and a half seasons with the Dallas Cowboys.
Ezekiel Elliott could be one of the best running backs of his generation.
So far, the 24-year-old has 4.789 yards rushing and has rushed for 34 touchdowns. That's through three and a half seasons. That's also with 8 games missed: six due to suspension. Elliott's punishing running style keeps the Cowboys humming and a well-oiled machine. He's fast enough to out-run cornerbacks, and strong enough to power through defensive linemen and linebackers.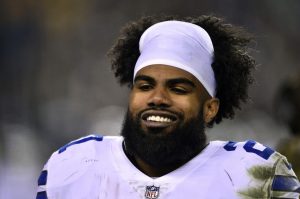 But if you witness Elliott's run style, it's incredible that he has remained durable over the past few seasons. Then again, it's shouldn't be a shock. He played most of his breakout sophomore season with a broken wrist. And started every game the following season with an equally impressive junior year campaign. With a running style so punishing and physical, Elliott has remained durable and injury free in his career in the spotlight.
Perhaps, maybe that's why Elliott pulled a coup this summer with his contract talks. Elliott did a contract holdout to become the highest paid running back not only in the current NFL, but of all time. However, amid that, Elliott spent that time recovering and training for the NFL season. Not worrying about the rigors of training camp, Elliott using that time to train, recover adequately and rest allowed him to show up days before the Cowboys first game still in great shape. In his first eight games, Elliott has rushed for 741 yards and six touchdowns. It appears his contract coup worked itself out.
Because as the NFL's running back issue continues to take center stage, it's important that the Cowboys give kudos, but properly monitor Elliott and what he's done with his workload. Elliott is no small back: standing at 6'0 and 228 pounds, he's used his unique blend of size, speed and strength to dominate the league. But as the Los Angeles Rams have learned with Todd Gurley, a heavy workload can become the downfall of a great back.
Granted, Gurley came into the NFL with an injury history. He suffered a torn ACL in college, and the same knee he suffered the ACL injury is causing him tendonitis. Elliott has come in healthy and is still performing like a top back. It's now up to the Cowboys to continue to build around him to make sure he can stay fresh for the next three-to-five years. It's an extreme gift that Elliott can produce at such efficient levels. It's also a gift for Elliott to remain healthy too. If you ask the Rams, it's what they miss from Gurley the most.
Elliott is on pace for around 1500 yards this season. Hopefully, there will be more highly productive seasons for Elliott to come. If he is healthy.
Music Editor; Brad Washington
Also connect with this brother through Twitter; http://twitter.com/theGURO15.