Lewis Hamilton and Nyjah Huston: Breaking down walls of non-traditional sports.
(ThyBlackMan.com) When it comes to contemporary black athletes who have dominated in a professional sport that has been not historically kind to black people, the names of Serena Williams and Tiger Woods are the first two that come to mind. Both athletes have a strong case of being the best athletes ever at their particular sport despite the environment around their sport being very white and elitist. As the careers of Williams and Woods wind down, there are two other black athletes competing in very different sports that are dominating their predominantly white competition as men of color.
In America, NASCAR gets the most attention regarding professional motor sports. NASCAR is still popular in the South and has grown nationally over the last couple of decades with big names like Jimmie Johnson, Dale Earnhardt Jr., and Jeff Gordon and many Americans only pay attention to open-wheel car racing during the Indianapolis 500. However, the top class of single-seater auto racing in the world is Formula 1 and the best Formula 1 race car driver is Lewis Hamilton of the United Kingdom.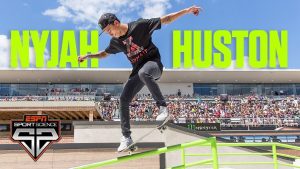 Black British Formula 1 driver Lewis Hamilton just won his sixth world championship in Formula 1 racing, which is the second most all-time to Michael Schumacher. He has been on a dominant Tiger Woods/Serena Williams-type run since 2014 as he has won at least 10 races a year in all but one of those six seasons. This is Hamilton's 13th year in the sport and he is the only F1 driver to have scored at least one victory in every season in which he has competed. He is clearly one of the best of all-time at 34 years old and shows no signs of slowing down as he earned eight wins from the opening 12 races of this season.
Unlike Tiger Woods, Hamilton has not been afraid to embrace being black as the son of a mixed-race relationship. He also knows the significance of his success as a Formula 1 barrier breaker and in a recent ESPN.com interview said, "But what's really great is that over the time I've seen more people of color, minorities coming to the races in the different countries that we're going to. We get so many messages from people. It's really beautiful. Hopefully, I can keep going. I hope I can continue and try to make those people proud and help those individuals who are going through difficulties, as we all do."
The world of skateboarding is known by one athlete and that is Tony Hawk. Hawk's style and talent were keys to making the sport of skateboarding more mainstream and the explosion of extreme sports during the 1990s and 2000s. There is a perception of extreme sports and skateboarding of being a rebellious, youthful, and white sport tied to punk rock music. Few people realize that the highest-paid skateboarder of all time in terms of prize money is 24 year old Nyjah Huston.
The highly decorated Nyjah Huston grew up under the guidance of a Rastafarian father and white mother. His dad honed his skills at a very early age and at 11 years old was the youngest participant in X Games history. Unfortunately, their relationship became strained as Huston's dad isolated the family from the outside world and his mother eventually received sole legal custody of Huston and his siblings. Nyjah Huston's unique upbringing has not stopped his success as he has won seven X Games gold medals and won the "Best Male Action Sports Athlete" at the 2013 and 2014 ESPY Awards. Lewis Hamilton and Nyjah Huston stand at the top of their sports as men of color in sports where white men from across the globe compete to be the best.
Staff Writer; Mark Hines