5 Staycation Ideas for Couples.
(ThyBlackMan.com) Relationships are exciting when it is just starting. However, when you get used to being together and doing the same things over and over, it begins to get boring and might sometimes feel like we're falling out of love with our partner. Trying out new things is a great thing for couples to keep the fire burning in their relationship. Some people make it a habit to set a date every weekend while requesting other family members to take care of the kids. Others schedule out of town trips with their families. 
If you're a couple who wants to go out for a vacation but doesn't want to travel far, here are 5 staycation ideas you might want to try.
Overnight stargazing at your backyard
This one is a great staycation idea for couples who want to stay at home but also desire to try out something new. You can set up a tent, or simply lay a warm blanket on your backyard and watch for the stars. This is best scheduled on a cold summer night. You can even build your own telescope for a more exciting experience.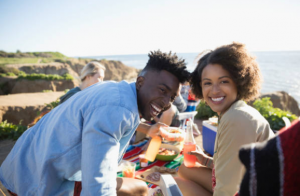 Spa Night
When you both want to take a break from all the stresses of juggling tasks in your marriage, having a relaxing spa night will surely take the stress and body pain away. You can opt for a couples spa for a more romantic massage experience which often includes a full-body scrub, sauna, and some healthy snacks. Look for an overlooking spa venue so you can also enjoy watching the city lights after. 
Experiment new recipes and cook together
This one may sound cliché, however, many couples are often too busy to cook delicious and healthy food for their spouse. But as they say, "A secret to a man's heart is through his stomach."
Take some time to search for new recipes you can try out together, whether it's a new dinner recipe or a scrumptious baked goodie. Who knows, you might also be able to sell these and set up your own food business soon. 
Take a weekend workshop or class
If both of you are craving for new knowledge or simply want to explore your creativity, you can take a weekend workshop or class together – may it be an art class or 2-hour workshop on financial management. Learning together will surely help you grow as a couple and will help you improve on your craft as well.
Recreate your first date
If you want a nostalgic vibe, you can recreate your first date. Put together the plans you had when you just started dating. Revisit the place where you first met or the first dinner you went on together. Recall your first moments together no matter how awkward, funny, or enchanting it was. 
Staycation Tips!
If you prefer to spend time at a hotel, do an advance booking to make sure to spot the perfect place for you. You can also make reservations at your preferred restaurant to lessen the hassle of looking for places to eat.

Every staycation is an opportunity for you to relax, but maximize the time by talking to each other about your future plans and dreams without any distraction.

If you're planning for a more intimate staycation, make sure to leave the kids to people you trust the most. This will help you enjoy the time without being bothered by how your kids are doing. 

Plan according to your budget. While your main goal is to enjoy and relax during a staycation, keep yourself sane after your vacation by avoiding to spend beyond your means.
Staff Writer; Ellie Carter