My Book; What to do About the Bully in the Room?
(ThyBlackMan.com) Let's look at bullying from a good/bad perspective.  The bad news here is that a large number of youngsters wake up reluctant to go to school or hide somewhere and skip classes on a regular basis. This writer has witnessed this question from the perspective of a person bullied and as a frustrated and protective teacher in the Chicago Public Schools. The "Bully" problem is an issue that influences a great many average children or students; everybody is stressed about it, not just the children at the receiving end alone. Yet, on the grounds that most people such as parents, educators, administrators and various grown-ups don't generally see it, they may not see how extreme this social crisis can get.
Bullying occurs when a person is singled out for punishment, hazing or retribution again and again by an individual or a group of people with more power, either in terms of physical quality or social standing.
Two of the principal reasons individuals are harassed are a direct result of appearance and societal position. Bullies (males and females)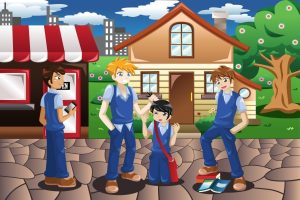 single out individuals they think don't fit in, perhaps in light of what they look like, how they act (for instance, kids who are timid, shy or withdrawn), their race or religious inclination or on the grounds that the bullies think their target may not be straight, for example a person perceived to be from the LGBTQ community.
A few domineering predators assault their subjects physically, which can mean anything from pushing or stumbling to punching or hitting, or even rape. Still other bullies utilize psychological control or verbal abuse to place them in control, for example, individuals in well-known groups frequently bully individuals they perceive as different by barring them or tattling about them (mental bully). They might likewise insult or tease their subjects (verbal tormenting). Verbal tormenting can likewise include cyber bullying — sending disparaging messages, texts or posting insulting comments on Facebook or other social networks or platforms. The good news here is that there is hope!
Five Proven Steps to Resolve Issues with Bullies:
Disregard the bully and walk away.
It's certainly not a coward's reaction — at times it can be harder than losing your temper. Bullies carry on with the response they get, and in the event that you release or disregard abusive comments, you're telling the bully that you simply couldn't care less. Sometimes the domineering person (male or female) will presumably get exhausted with attempting to trouble you. Walk tall and hold your head high. Making use of this type of body language passes a message across that you're self-assured and not vulnerable.
Don't embrace the annoyance you feel.
Who wouldn't get truly annoyed with a misguided and domineering personality? Yet, that is precisely the reaction he or she is attempting to get. Bullies need to know they have control over a person's feelings. In case you're in a circumstance where you need to manage a domineering fanatic and you can't leave with poise, use some humor; it can throw the bully off balance. Work out your anger through other proven means, for example, through active exercise or putting it in writing.
Build your own self-confidence.
Practice ways to respond to the bully whether verbally or through your conduct.   Work on liking yourself (even if you need to fake it at first).
Discuss it with a trusted adult.
It may help to discuss a bully scenario with an educator, guidance counselor, youth pastor or a friend; any trusted individual who can give you the much needed support required. Talking it out can be an escape route from the frustrations that build up when you're being plagued with a relentless bully.
Move on! (Message to Parents)
Bullying left unchecked can harm your physical, mental, and emotional health and well-being. If your child has done their best to take care of the situation and you've sought assistance from school administration, guidance counselors, teachers and friends but still find no improvements have occurred in the natural, it's time for your child to consider moving on (putting as much space as possible between them and the bully). No, they're not letting the bully "win" neither are you a loser; you're essentially dealing with the positive aspects of the wonderful person they are! Explain to them: Hold your head high and get on with your life because bullies know in their hearts: Winners Never Quit and Quitters Never Win!
This information is written from the perspective of the writer, bullied in elementary and high school, yet, Stanley G Buford found the courage to put the story in words his fellow classmates could relate to and parents could use as a guide to combat "bullies" in the award winning children's book: "My Story: Winners Never Quit, And Quitters Never Win"
Staff Writer; Stanley G. Buford
Feel free to connect with this brother via Twitter; Stanley G. and also facebook; http://www.facebook.com/sgbuford.