Interpreting one man's hatred of black hair.
(ThyBlackMan.com) One of the best college football programs in the Big Ten Conference is at Pennsylvania State University, often known as Penn State. In a conference with a lot of rich football history, Penn State has had historically great players, teams, uniforms, stadium, and even an all-time great coach in the late Joe Paterno, even though his legacy is forever changed by his alleged actions or inaction involving the Penn State child abuse scandal earlier this decade. Now one of the best college football coaches in the country, James Franklin, has Penn State as a respectable college football program once again. Surprisingly, one of his players received some attention not for his on-field play but his appearance which is a reminder of old and current racial ignorance involving black standards of appearance.
The number twenty-six is a valuable number at Penn State following the stellar career of former Penn State star running back Saquon Barkley. Barkley became one of the best players in the history of the school in his three years there before becoming a first round pick in the 2018 NFL Draft by the New York Giants. With Barkley in the pros, the number twenty-six is now worn by a defensive player, safety Jonathan Sutherland. Sutherland is currently a starting safety for the team and he received some attention from a Penn State "fan" via a letter. The letter was written by, Johnstown, Pennsylvania, resident Dave Petersen, who wrote that he and his wife, "miss the clean cut young men and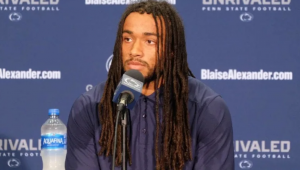 women from those days. Watching the Idaho game on TV we couldn't help but notice your — well — awful hair. Surely there must be mirrors in the locker room! Don't you have parents or [a] girlfriend who've told you those shoulder length dreadlocks look disgusting and are certainly not attractive." Sutherland, who wears his hair in locks, made the letter public through social media.
Penn State head coach James Franklin, who is also black, came out and denounced the letter while praising the character of Jonathan Sutherland following the attention the letter received. Franklin said, "He's the ultimate example of what our program is all about. He's a captain, he's a dean's list honor student, he's confident, he's articulate, he's intelligent, he's thoughtful, he's caring and he's committed. He's got two of the most supportive parents, and I would be so blessed if my daughters would marry someone with his character and integrity one day." It is not surprising that an opposing fan who criticize a college football player on the field and try to throw them off their game but it is a different and sad issue when any person, including a sports fan, criticizes the hairstyle of anyone, especially of black athletes.
In a case of art imitating life, a recent episode of the TV sitcom, Mixed-ish, dealt with the topic of black hairstyles and how society often has problems or issues with how people of color wear their hair naturally in the school or workplace. It is still a ridiculous issue that black people have to face and some inroads have begun to be made to made it more acceptable for black people to wear their hair naturally in the workplace without discrimination. Ultimately, people need to understand that what people do with their hair is their very personal choice and is their body so it is best to be supportive for the beauty that is in the texture and complexity of how anyone wears their hair.
Staff Writer; Mark Hines