Are You A Good Boss?
(ThyBlackMan.com) If you have recently started to expand your money making venture, the chances are that you are looking to hire staff and create a cohesive team to drive your business forward. Being an entrepreneur, you need to hone your leadership skills to mold a forward thinking team around you. You need a group of individuals that come together and buy in to your business vision. This is easier said than done. Many people view their jobs as a simple nine to five, and never really care about the work that they do so long as they can pick up their paycheck at the end of each month. You need to change this mindset.
The easiest way to make your employees care about their jobs is to be a good boss. By showing your team that you respect their views, that you appreciate their input, and that they are valued members of your firm, you can maximize the chances of them being productive. Take a look at these ways to ensure that you are a fantastic boss.
Communicate
To be a good boss, you need to communicate effectively with your staff team. Don't hole yourself away in your office and become a mythical figure in the company. Get out onto the office floor and chat to your staff. Have a five minute whizz around every morning, say hello, smile and ask how they are getting on with their work. This gentle touch of informality can make you more human and real.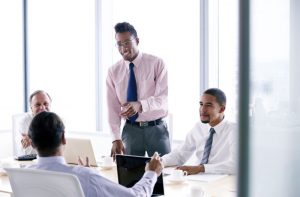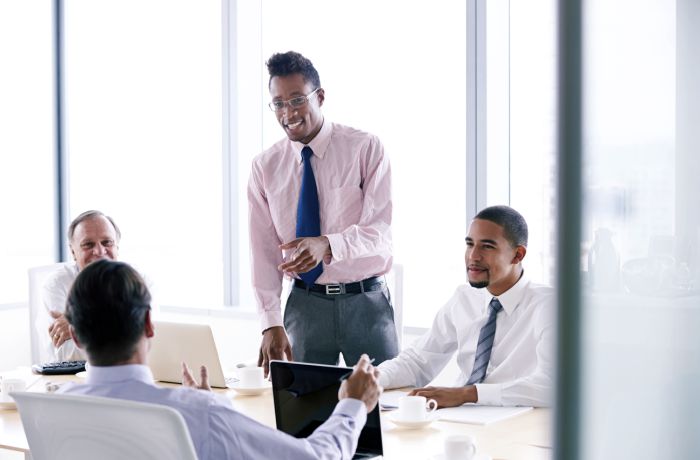 Set up a Monday morning briefing every week and let your staff know about any targets, what is working well and what needs improving. Use this as a forum so that your employees can air their opinions and views. Make notes and heed any excellent ideas that they may have. End the week with an email on a Friday detailing the success of the past seven days. Namecheck those individuals who have worked particularly hard and have contributed to the company. Everyone loves a little bit of positive praise. It can engage and enthuse your staff and make them want to be more productive as they begin to buy in to your business vision.
Give Something Back
While you might want your staff team to be one hundred per cent focused while in the office, there is always time to take a breather after work. Consider setting up some away days to get to know your team on a more personal level. These can be off site and in a more informal setting. Allow your team to shed their suited and booted looks in favor of jeans and a tee shirt. Think about escape room activities, driving experiences and team building exercises. While a little cliched, away days can be a great way for your team to let their hair down, but also to spend some time together without talking about that important client meeting that is coming up.
You could also choose to invest some of your company profits into rewarding your staff team. Consider signing up with one of the many employee benefit providers, meaning that they can sign up for discounts at local restaurants, enjoy cheaper cinema tickets, or get money off their grocery shop. These little perks can make your company a more desirable place to work and it shows how you are willing to give back to your staff team.
Environment
As a boss, you need to facilitate the perfect working environment for your staff team. You don't want your employees worrying about coming into work or dreading Monday mornings on a Sunday night. As you walk into the office, you want to see a wealth of smiling faces engaging in business conversations and bouncing ideas across the room. You don't want to witness people twiddling their thumbs and yawning as they await the WiFi to kick back in after the umteenth downtime period in any given week.
Make sure that you provide your employees with a dynamic environment in which to work. Those beige carpet tiles and flimsy desktop pods simply won't do. Move your office into the twenty first century by swapping the individual desks for collaborative working pods. These are great spaces to have meetings. Foster those water cooler moments by welcoming a positive buzz and engaging atmosphere. Ensure that you paint the walls white, whip up some local art work and have some splashes of greenery adorning the space. Keep things open plan and have a modern decor feel to your office space. This can provide a comfortable and pleasing aesthetic for your staff team.
Ensure that you provide your staff with ergonomically well designed chairs, decent furniture and excellent hardware on which to complete their work. There's nothing worse than the printer jamming constantly or the WiFi always going down. This leads to frustration and a lack of productivity through no fault of your staff team. Give each employee a decent laptop, ensure your server is top notch and consider outsourcing your IT troubleshooting to an off site expert.
Invest In Your Team
By spending some of your business cash on investing in your staff team, you are also investing in your business. By paying for some training courses, a qualification or two, or a secondment opportunity, you are empowering your staff to improve their skill set. These are skills that will then feed into your company and your office space, making productivity increase and the quality of work produced enhanced. Continuing professional development is important for employees wanting to progress in their career. Yes, they may choose to leave once you've spent money on their training, but if you are a great company to work for, the chances are that they will stay.
Being a great boss is difficult. Morphing from employee to employer is no easy task. However, always put yourself back in the employee's shoes and think about what you would have liked to have seen in a great boss. Keep this in mind as you implement initiatives and communicate with your staff team.
Staff Writer; Rick Parker