6 Tips to Refresh your Home.
(ThyBlackMan.com) Your home is your refuge from the harsh realities of the world. When everything around us is chaos, having somewhere safe where you can close the door and relax is vital. The problem is that even our homes can start to look and feel stale if they aren't given enough care and attention. Moving to a new house is stressful, and a bit of overkill if your home is only in need of some light refreshing. Sometimes, even the smallest of changes can transform your home, and you don't need to spend a fortune either. If your home is feeling a little lacking in energy, then here are some of the top ways to give your home a refreshing overhaul.
Move Your Furniture
The simplest and cheapest way to adjust the look and feel of your home is to rearrange your furniture. This can have a much more dramatic effect than you think, and it's free to do as well. How much you can change things around will depend on the furniture that you have and the space that's available to play with. Remember the following tips:
Start looking at your most commonly used rooms and think about how having a small rearrangement can utterly transform how it looks and feels.
Repurpose Old Furniture
This is becoming a hobby as much as a home furnishing trend. Taking worn out, tired looking furniture and turning it into something fresh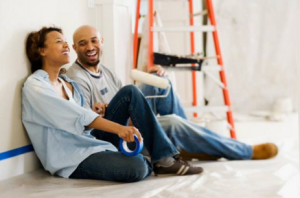 and exciting is easier than ever. There is a wealth of advice guides available online, and some people are even turning furniture repurposing into a lucrative side-hustle. You could paint old bookcases, sand down coffee tables, or even varnish kitchen shelves. The best thing about this trend is that you can go as wild as you like. Chalk paint is particularly versatile and can add an entirely new dimension to your child's bedroom or the kitchen.
Create the Right Lighting
Never underestimate how much a change of lighting can do to a living space. From the bathroom to the lounge, the right lighting can be utterly transformative. You could opt to invest in some smaller lamps so that you don't have to rely on the main overhead light. Alternatively, look at the most recent light fixture trends for the year. Even swapping light switches for easy dimmers can make a lot of difference at your home. Of course, in the digital age, you could also invest in some Smart lighting fixtures and bulbs.
Wall Overhaul
If there's one thing guaranteed to make a room feel tired and unpleasant, it's faded wall paint. If you want to give your home the ultimate in refreshing new looks then you can't go wrong with a fresh splash of paint. Think about the rooms that you want to change. Match your color scheme to your current furniture or choose a more neutral color so that you can mix and match your accessories. Find a local professional for a quick, easy, and cost-effective way of getting your home looking completely different. Simply Google "house painters near me" for expert advice and work, including painting the exterior of your home. It can take only a few hours, and you'll be amazed by how much impact it can have.
Celebrate a Purge
If there's one clear way to make your home feel unruly, it's clutter. It might be time to have a home purge and get rid of all those things that are always in the way. Go through cupboards, wardrobes, and every room in your home. Gather together everything that you don't need. Then, you can either donate it to your local charity, sell it online, or even have a yard sale. Turn this into an activity for the whole family. Get the music on loud and get everyone in your home involved. You might be amazed by how much space you get rewarded with.
Add Some Green
Plants in the home can be amazing. Not only can they be a good boost for mental health, but they can also help purify your air as well. Plants and greenery add life and color to any space, so it's worth investing in one or two for some of your larger rooms. If you have pets, make sure that you get plants that they are not allergic to. Play with positioning so that you can see your plants wherever you are in the room. For those with especially green fingers, consider going bold with a greenery-laden wall. If that sounds like a lot of work, then unused coat hooks can be good for hanging plants, and bookshelves are useful if you have the space.
You want to be able to relax at home. If your rooms are feeling dark, gloomy, or lacking in all energy, then it might be time to have an overhaul. Think about how you want your home to look and start taking steps to make it happen. Spend some time and energy on your home, and you may never want to leave it again.
Staff Writer; Brad Jackson