When A Woman Stops Talking, Fellas Listen Up!
(ThyBlackMan.com) A woman's way of communicating that there is a problem, is sometimes through her silence.  If she is always joyful and suddenly you notice that she is quiet and not in the best mood, listen up!  She's trying to tell you something.  Her silence doesn't have anything to do with her zodiac sign or it being that time of the month.  More than likely, she has shared her frustrations with you, you just didn't listen.
Women are taught at an early age to express their feelings regardless if they are good or bad.  Remember when your little sister fell off of her bike and your parents doted over her and kissed her scar and wiped her tears?  Then, that time when you fell off of your bike, you were told to be quiet, get up and stop acting like a girl.  Being quiet and not acting like a girl didn't stop the pain racing up your spine neither did it stop the bleeding from your scar.  This is exactly what is going on when a woman is being quiet or not talking to you, she is suppressing her feelings momentarily and oh boy, when they do come out, run for cover!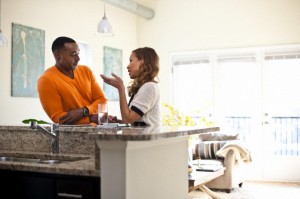 A woman's virtue includes her strength to take on any situation.  When she feels that you are not listening to her, she will shut down, process the situation and most definitely respond.  Her response may be internally, verbally or through her actions….. but know and trust that she will eventually respond.  Women and men process anger and hurt differently (remember the history lesson I gave you in the bike analogy above).  She may be hurt that you're not attentive to her needs as much as she is attentive to yours.  She may feel like talking to you about it, goes nowhere so instead, she'll give you the silent treatment as you will call it.   Her silence is her way of saying FIX IT!
Don't take her silence for granted or with an assumption that she's weak because of her silence.  She is saying so much in her head in those moments of silence and sometimes what's being said internally, you couldn't handle it if she were to say it aloud.  Communication is key in any relationship and especially in the partnership between a man and a woman so don't allow your ego or your masculine views separate you from the love of your woman through her silence.  Find out what's the problem during her silence and look for ways to resolve it, together.
Staff Writer; Felicia T. Simpson
One may also connect with this sister online over at; FTSimpson.com.