4 Tips for Improving Warehouse Operations.
(ThyBlackMan.com) Improving warehouse operations is on the goal list of many company CEOs that have logistical operations to manage. When owning a company that deals with the transportation of goods by air or land, or the management of goods once they're on the ground, then time is money. Efficiency in operations makes a real difference to businesses if they're to remain competitive.
Here we provide four tips for improving warehouse operations for companies that deal with supply chain logistics.
1.     Limit Movements within a Warehouse
Contrary to what many warehouse managers believe, movement is anathema to efficient operations.
With every movement of personnel away from the picking and packing station to find an item that's missing from an outgoing packing consignment, it adds delays and creates chokepoints that hold up operations. When this occurs too many times in one day, the cumulative costs are considerable in terms of lost productivity.
By moving frequently required items near to the staff who need access to them, this reduces unnecessary movements to a minimum. Whilst it's not possible to do this in every case, 'the fewer moving parts, the fewer things can go wrong' is a good motto to adopt.
2.     Studying Business to Perform Better
When learning about how businesses are planned, operated, and can function better, this is broadly applicable to companies wanting to make incremental improvements over time.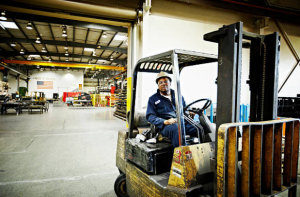 Studying a distance learning business degree via online access provides the opportunity for selected staff to become better equipped to meet tougher performance metrics in the business. This avoids the need to go through another recruitment drive to locate suitably trained staff who then have to get up to speed on the internal business processes. When the right staff are chosen to study a distance learning business degree, companies promote loyalty from within by providing opportunities for advancement.
3.     Performance-related Pay
For staff who are involved in picking and packing or other work that can be evaluated based on their productive rate, it's possible to incentivise them through performance-related pay. By using incentives to encourage staff to put more into each day of work, motivated employees can earn more in a day than they otherwise would.
For companies, by using performance-related remuneration, it makes it clear who is performing well and the staff that are letting the company down. Re-training can be offered to those who aren't performing well to see if that will help. With staff that perform better, it pays off for companies because they make more profitable use of the costly warehouse space, which more than covers the expenses for extra staff incentives.
4.     Better Maintenance of Equipment
By maintaining equipment in the warehouse better, it suffers fewer breakdowns. This leads to fewer stoppages where a necessary piece of equipment is holding up the movement of either incoming or outgoing goods.
Maintenance on a regular schedule is the best way to avoid breakdowns, however, replacing older equipment before it starts to become less reliable is a good idea too. Training staff on the new equipment also helps them to get the most out of the investment.
Improving warehouse operations should be an essential part of the proper functioning of any logistical-based company. With a strong focus in this area, additional earnings are produced with the same or a reduced level of company spending.
Staff Writer; Carl Parker