ASAP Rocky Detained: Should We Care.
(ThyBlackMan.com) ASAP Rocky is sitting in a cell somewhere in Sweden. Some hip hop artists and activists are calling for his immediate release stating he's being detained in inhumane conditions. Some argue he was harassed and defended himself in what is being labeled as assault. This has caused a bit of a fight among black people that can be seen as principle verses karma. The conversation is being had that maybe we shouldn't get behind every black person that deals with injustice. We shouldn't champion the cause of anyone that speaks ill of our women, and those that dismiss the fight of black people in this country. ASAP Rocky has committed both of these crimes. He has disrespected black women in his commentary, and he let us know in that movements such as black lives matter isn't for him. His comments on Ferguson greatly offended many black people. Ironically, he now needs help from the same people he once dismissed.
In an interview in 2016 he stated: "So every time something happens because I'm Black I gotta stand up? What the f*ck am I, Al Sharpton now? I'm A$AP Rocky. I did not sign up to be no political activist," Rocky said at the time. "I don't wanna talk about no f*cking Ferguson and shit because I don't live over there! I live in f*cking Soho and Beverly Hills. I can't relate. I'm in the studio; I'm in these fashion studios; I'm in these b*tches' drawers. I'm not doing anything outside of that. That's my life." These comments have led some to believe he's getting the karma attached to his own words. His people have reached out to Al Sharpton…the same activist he mentions I'm his comments. Some black people feel he needs to keep that same energy, and seek help from people in Beverly Hills. Should we care about what has happened, or is happening to ASAP Rocky and other black people like him?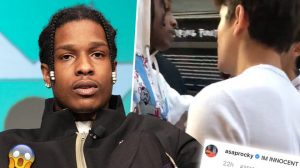 This situation makes me think about the family member that is toxic, and very selfish. If a situation isn't about them it's not important. They've alienated many of their family members, and they hate to see them at any family function. However, if they are attacked, harmed, or illegally detained someone is going to show up on behalf of the family. Family doesn't show up because that member deserves the support, they show up on principle. It's the fact of how stupid they've been they are still family, and we can't just sit back and let white folks take them or get away with brutalizing them. Granted there is a rebuking conversation to be had with this family member, but it comes after we've stood up for you.
I don't know if we should care about ASAP Rocky, but I do know we can't afford to allow a single black person to sit in jail unjustly. If we can fight that behavior, we should…on principle. Granted, it seems he's forgotten where he came from as he tried to re-write his narrative in a way that removes him from the responsibility of being black. That is unacceptable. However, to try to justify leaving a black person to sit jail unjustly is just as bad. He has to be accountable for the position the took, and the words he spoke. However, the cause is bigger than one person, or our disgust with said person. Even if we don't care…we must care about the principle. He's one our people if even if he needs to remember himself, and even if we really want to put him on the porch.
Staff Writer; Christian Starr
May connect with this sister over at Facebook; https://www.facebook.com/christian.pierre.9809 and also Twitter; http://twitter.com/MrzZeta.