5 Tips for Introverts in the Workplace.
(ThyBlackMan.com) Being an introvert simply means that you are typically a shy person in any social setting, including the workplace.  Being an extrovert is not only for the water cooler gossipers in the office.  The same methods that extroverts use in social settings is also applicable for introverts.  Although everyone's workplace environment is different, here are five tips to help us introverts become more social while we are at work:
1. Instead of sitting at your desk or cubicle hiding, go around to different departments and introduce yourself. If you're the program assistant but are curious about the funding sources at your workplace, go introduce yourself to the accountant or bookkeeper.  You don't have to be nervous, or shy just introduce yourself and start talking numbers and trust me, they will be glad to talk about their roles and responsibilities.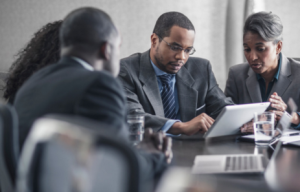 2. Make it a habit to eat your lunch in the breakroom or cafeteria. Don't dine out for lunch or eat lunch at your desk five days a week.  As loud as it may be, go hang out with your colleagues during lunch time at least three times a week.  You really cause more attention on yourself when you constantly exclude yourself in social gatherings.
3. Use email to communicate. If you're really that shy, try using emails to communicate work-related conversations.  In these emails, you can formally introduce yourself, give a few bullet points on what value or expertise you bring to company and offer to help on a future project that aligns with your job description.
4. Create brainstorming sessions with your colleagues. This is great to do to help you with your team building skills as well.  Again the goal is to help you improve your social skills and you have to come out of your lonely corner or office shell to accomplish that goal.  If you and your team are working on a particular project, take 15-30 minutes in your workday to debrief or brainstorm……. Together!  Don't just sit there, share your ideas, knowledge, comments or concerns about the current state of said project.
5. Pay attention to your surroundings. Take a look at your work environment and create moments of opportunities for yourself and possibly for your colleagues.  Engage in conversations that could possibly lead you to your next promotion.  Identify what is missing from your work environment and advocate for it (even if it's something simple such as allowing staff to take 15 minute naps or adding tea to the breakroom Keruig).  The point is, pay attention to what is needed and create a call to action to get it.
Introverts are not always shy all of the time.  Look at Beyonce who created a whole alter ego because when she is in social environments she's pretty shy, but when she's on stage, it's a completely different person that you are seeing, basically.  If you want to be seen and heard in your workplace, then you're going to have to get out of your comfort zones and interact with your colleagues.
Staff Writer; Felicia T. Simpson
One may also connect with this sister online over at; FTSimpson.com.