Ways to Attract New Guests to Your Hotel.
(ThyBlackMan.com) Running a hotel is a cool and exciting job, but it's not exactly the easiest job in the world. There are lots of things you need to take into consideration and a huge number of people you need to take care of, but the overall success of your hotel depends on one thing: how many guests you're able to attract. Always having new people arrive at your hotel and asking about prices and capacity is vital if you want to keep making a profit, so you need to try really hard to make your hotel as welcoming, inviting, visually appealing, and cozy as possible. If you too are running a hotel and aren't sure how to make it more successful, here are a few things you should do in order to attract new guests.
Update your branding
With so many options out there, people have a hard time deciding which hotel they should stay at, especially when it comes to popular tourist destinations and places people generally love visiting. That's why you need to find a way to stand out and shift the attention of potential guests to your establishment, making sure everyone who is uncertain where to go comes to your place instead of the competition. There are lots of ways to do that, but working on your brand is definitely one of them.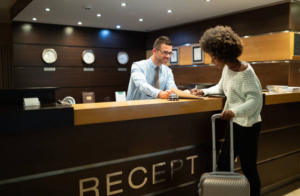 First, come up with an awesome name – this will shift everyone's attention your way and make people understand that your hotel is definitely a place they need to visit. After that, work on your visual identity, and create a logo that will represent all the creativity, energy, and imagination you're investing in your job. In the end, define your corporate identity and finish the branding process in the best way possible, making sure your hotel is unique and outstanding.
Spice it up
Even though most hotel owners think that cosmetic changes aren't enough to turn their hotel into a sudden success – which is why they ultimately refuse to invest their energy, time, and money into these projects – the truth is quite the opposite. All tourists want to feel good, valued and appreciated, and spending time in a nice environment is the way to do that. That's why spicing your hotel even up a bit can really go a long way and encourage people not to spend their money and time anywhere else.
Start with a thorough paint job and repaint all your interior walls, from the reception to the individual rooms, and everywhere in between. You might want to consider using the colors you opted for while you were working on your new brand image because this will help your hotel make an even better first impression on your guests. If that's not the path you want to follow, think about using neutral colors, earthy tones, and soft hues – beige, white, eggshell, and grey could turn out to be a perfect choice – because these might appeal to more people than colors that are too bold and aggressive, such as brown, blue, purple, green or black.
Add some comfortable furniture
One of the reasons why people go to hotels is that they want to feel pampered and spend time in a nice and homely environment, surrounded by a certain level of comfort and coziness. That's precisely the reason why your hotel needs furniture that's new, fashionable, comfortable, and adaptable to different styles and looks. After all, this isn't just what's going to attract people to your hotel just once, but also encourage them to return again and again in the future.
A number of hotel owners focus on the entrance and the reception, and while that's quite all right, your main focus should be on the individual rooms. In the end, this is where your guests will be staying, so make sure you give them the luxury and comfort they expect and are ready to pay for. If you'd like to work on consistency and order all your furniture at one place, you might want to take a look at the amazing online offers and all the wonderful beds, sofas, sectionals, and chairs that are on offer. Opting for quality sofas and comfortable mattresses can male all the difference when it comes to your guest satisfaction and their desire to return.
Advertise on social media
Back in the day, hotel owners didn't have to worry about ratings, comments, reviews, and all the other things that come with the rise of the online booking process. In this day and age, though, there's no way you can make a profit if you're not advertising on Facebook, Twitter, and Instagram, constantly posting new content, attracting new followers, and working on your online presence. This job sounds rather tiring and it may seem pretty useless at times, but the truth is that this could make quite a big difference in your annual profit and really mean a lot in the long run.
When creating your hotel's social media strategy, what you need to do in the beginning is to define what features you'd like to present to the world. This could be your reception, your room, your staff, your outdoor space, or all of the above – it doesn't really matter, as long as you keep posting new content on a regular basis. You could also give discounts to your followers and offer them special treats, and this gesture of goodwill is going to encourage them to spread the word to other people as well. In the end, try to be different from all the other hotels in your area and show the people who follow you that you're a unique establishment – trust us, this will turn all your followers into paying customers sooner than you could've imagined.
Attracting new guests to your hotels is never easy, regardless of your location, size, offer, and amenities – it's a never-ending process you have to invest all your energy and time into. However, all your investments will surely pay off in the future and turn your hotel into one of the most popular ones in your entire area, and that's something all hotel owners want.
Staff Writer; Ron Hall