Newly elected Big Ten commissioner Kevin Warren excellent choice to lead Big Ten conference.
(ThyBlackMan.com) When it comes to major college sports, the conference that gets most national affection is the Southeastern Conference, known by sports fans as the "SEC". It is not unusual for college football, college basketball, or even non-revenue sports featuring SEC teams to have fans chanting "SEC! SEC!" if their team defeats a non-SEC team in competition. Because college football plays such a substantial role in the enjoyment of athletics in America, the top conference in college football over the past decade and a half has been the Southeastern Conference will get a large percentage of the publicity. However, a strong case can be made that the second most recognizable conference is the Big Ten Conference, known for its colleges and universities that reside in the 'Midwest'. It is the Big Ten Conference that decided to make a major decision to choose Minnesota Vikings Chief Operating Officer Kevin Warren as its next commissioner, which makes him arguably the most prominent black professional in college sports.
This has been a historical year in collegiate sports with the March 2019 hiring of Keith Gill as the first black commissioner of a FBS conference after being hired as the Sun Belt commissioner. Kevin Warren takes over a conference full of history and resources but he is a man of tremendous accomplishments, stature, and successes on his resume. He was the highest-ranking black executive working on the business side of an NFL franchise by virtue of his position with the Minnesota Vikings. Kevin Warren has an incredible legal background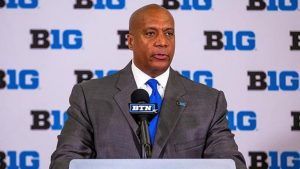 with general counsel and vice presidential positions with the Detroit Lions and the St. Louis Rams respectively and a juris doctorate degree from the Notre Dame School of Law. His professional and legal background has given him experience in states like Michigan, Indiana, and Minnesota, some of the important regions within the Big Ten Conference.
The hiring of Kevin Warren as a major college athletics commissioner is a vital part of the diversity of leadership void within college athletics. His experience as a member of the NFL Committee on Workplace Diversity can be a key to his approach to developing leadership diversity in college sports with university and college athletic directors. It is important when people like Kevin Warren are pioneering new roads with their experience is that they have an understanding of the history of the past and that they are making and both are apparent with him.
His office with the Minnesota Vikings is lined with pictures of Jackie Robinson, free-agency pioneer Curt Flood, Texas Western's 1966 basketball national champions and includes a letter written by Martin Luther King, Jr., "Letter from the Birmingham Jail". He is acutely aware of black history in sports and society and doesn't shy from it. At his introductory press conference, he said, "It is definitely not lost on me, the history associated with this".
The Big Ten Conference has a recognizable television network, brand, and a strong set of universities with athletic and academic history. They will be led by a man, who is blazing a new trail for the conference, that has been a pioneer and recognized as such throughout his career. The hiring of Kevin Warren as Big Ten commissioner should inspire and excite those who follow college sports about its future.
Staff Writer; Mark Hines