Mack Prioleau – Picking The Champions of England.
(ThyBlackMan.com) Mack Prioleau is one of the biggest football fans who I have ever met and since we bonded over the English Premier League during our time at Vanderbilt University we have had a weekly podcast going dedicated to just that. Mack Prioleau and I often disagree on what will happen in the footballing world but this season we think that it is the first time that he and I have both agreed on who will be the champions of England when the Premier League is all said and done. We will begin by telling you that it is our belief that Liverpool will lift their first league title since 1990, and here is why.
The Run-Ins
Let's start by taking a look at the run-in that each team have, something which Mack Prioleau has been fixated by since the turn of the year. Liverpool came through in blistering fashion against Chelsea and that leaves them with home games against Wolves and Huddersfield, and away games against Cardiff and Newcastle. Cardiff may be fighting for their lives but beating Liverpool is a bridge too far, Rafa Benitez is unlikely to stitch up his old side and Wolves, despite a magnificent season, will not be as up for their match as Liverpool will be, for us they win all 4.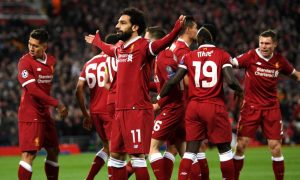 Man City have the far tougher run-in with home games against Leicester and Spurs, as well as away games against Brighton and Man United. Liverpool only need City to drop 2 points and that means a potential draw against Spurs or United, or maybe even a desperate Brighton side, either way they'll drop the points and Liverpool won't.
Champions League
City were dumped out of the Champions League by Spurs and whist there is a school of thought which suggests they can now focus purely on the league, confidence gets knocked and it can be difficult to recover from. Liverpool however march on to the semi-finals against Barcelona which will give them plenty of confidence going into the end of season crunch games. If Liverpool are embarrassed by Barcelona then things may change, other than that they look to have more than enough to see this league title out.
Heartbreak
This is the first year since 2014 that Liverpool were chasing a title and very few of the players from that team are still with the club. It could be considered therefore that Liverpool don't have the experience that City do in terms of the run-in, but the failure to win the Champions League last year will have shown this Liverpool side just how massive disappointment feels. This disappointment will be fresh in the player's minds and that for us, will propel them to go on and lift this coveted title.
The fact of the matter is that yes, it is in City's hands and that means the pressure is almost off Liverpool, they just need to keep winning, City are being hunted down though and just one slip up, and they will have to settle for second place.
Staff Writer; Roy Shaw