Ahmed Nashat – Can Spurs Actually Lift the Champions League?
(ThyBlackMan.com) For many years to come the question will be asked 'where were you when Spurs played City away in the Champions League'? This game may not have been for a trophy directly but Tottenham have achieved something truly special here, vanquishing big spending City with Guardiola at the helm, having not signed anyone for 2 transfer windows, playing away for almost 2 seasons and having nowhere near the financial might of many others in the competition. A favorable semi final game against Ajax awaits so the question that football analyst Ahmed Nashat and myself are asking is can Spurs actually win this for the first time in their history?
The Journey
By rights Spurs shouldn't even be here, going into the last game of the group stages against Barcelona the Lilywhites knew that only a win would suffice, they drew, but miraculously so too did Inter against PSV, spurning their opportunity and gift wrapping 2nd place for Spurs. Spurs looked second best on paper against Dortmund yet comfortably saw the German side off over 2 legs, and then came the toughest draw they could have wished for, Manchester City. Spurs ground out a 1-0 win and then of course they managed to scrape through after that rollercoaster second leg. Spurs will fancy their chances against Ajax, not because they are the better side necessarily, but because they have already beaten bigger and better.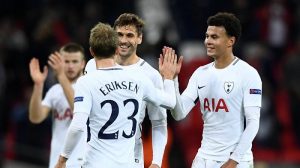 Final Chances
Were Spurs to play well enough to beat this brilliant Ajax side they will either face Liverpool or Barcelona in the final. So far this season Spurs lost 2-4 and drew 1-1 with Barcelona, against Liverpool in the league they have lost 2-1 on both occasions. The issue here however is that it is a 90 minute game on the biggest stage of them all, and anything can happen. Based on form Spurs shouldn't have enough to beat either side, but anything can happen in a single game. Spurs were more than a match for Liverpool last month and were unlucky to lose to a late own goal. Against Barca Spurs will have some confidence that they know what to expect, but the Catalonians will still be huge favorites. Something Spurs must also consider is experience, they have little final experience at all, let alone in the Champions League whereas Liverpool and most of Barcelona know what it is all about.
Spurs will never be favorites to lift the Champions League but if they can get through to the final it will very much be an achievement in itself given all of the circumstances around this season, not to mention the injury troubles which they have had. For us Spurs get to the final, scraping past Ajax, we believe that they'll meet Barcelona in Madrid for the final and end up being beaten. Although we don't believe they can do it, get to the final and everything is possible, especially for this Spurs side who just don't know when to quit.
Staff Writer; Peter Short