EBONY Magazine Presents Spring 2019 Issue; Life and Career of Diana Ross.
(ThyBlackMan.com) EBONY magazine releases its Spring 2019 issue, featuring the legendary DIANA ROSS on the cover. In the accompanying exclusive interview, EBONY has an intimate conversation with the iconic, award-winning singer who shares some of her fondest memories, including her famous Central Park concert. Ross also discusses her style evolution, motherhood and being a grandmother. In addition, her five children pay tribute to their megastar mom.
In other features, EBONY speaks with the incredible Debra Lee, the former CEO of BET, about her legacy in entertainment, gender equality, her advice for millennials and much more; we also showcase our top 10 2018–2019 EBONY HBCU Campus Queens. Elsewhere in the issue, readers will get a glimpse at the latest in spring beauty looks; EBONY staffers share their top picks for travel beauty products; we debut our new parenting column with an in-depth look at the connection between children's diets and their ability to manage anxiety and depression; and our Travel section explores perfect locations for lovers.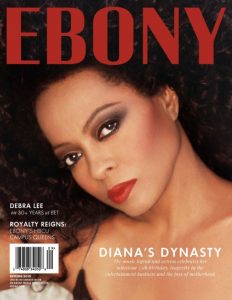 "I'm thoroughly thrilled about our Spring 2019 issue. Diana Ross is more than a famous name; she's an iconic brand of her own. Like EBONY, Diana is gearing up for her big 75thbirthday, and I couldn't be happier about celebrating both of these milestones," says EBONY Media Operations CEO Michael Gibson.  "We have plenty in store as we prepare to celebrate EBONY's diamond anniversary, and I can't wait to bring our readers on our retrospective journey through the past 75 years."
Get the Spring 2019 digital edition of EBONY via Texture, Google Play, Apple iTunes and Kindle on April 16. For more about Ross, her family and a sneak peek into the issue, visit ebony.com/InsideEbony.
In addition to this monumental cover story, EBONY is excited to join with Fathom Events, Diana Ross and Spencer Proffer and Meteor 17 to celebrate the star's 75th Diamond Diana Birthday Celebration with a special gift to fans around the world. The special two-night screening of Diana Ross: Her Life, Love and Legacy featuring Diana Ross Live in Central Park comes to movie theaters worldwide, premiering on her birthday, March 26.
The exclusive theatrical release will feature a remastered version of Ross's iconic Central Park concert, documented in July 1983 and considered one of the most important landmark events in music and entertainment history. The cinema event will also include special never-before-seen footage and messages from the Ross family, including sons Ross Naess and Evan Ross and daughters Rhonda Ross Kendrick; and Chudney Ross, with Tracee Ellis Ross giving a loving and passionate introduction to the film in celebration of the superstar's legacy.
Tickets for the global screenings of Diana Ross: Her Life, Love and Legacy featuring Diana Ross Live in Central Park can be purchased at FathomEvents.com for U.S. locations and FathomRocks.com for international showings as well as participating theater box offices.
About EBONY 
EBONY is the No. 1 source for an authoritative perspective on the multidimensional African-American community. EBONY Media reflects the cross section of Black America as delivered by the best thinkers, trendsetters, activists, celebrities and next-generation leaders. EBONY ignites conversation, promotes empowerment and celebrates aspiration. EBONY magazine is the heart, soul and pulse of Black America, and a catalyst for reflection and progression. Follow and engage: @EBONYMag on Twitter, @EBONYMagazine on Instagram,  EBONYMag on Facebook and EBONY.com on the web.