Wedding in the Dominican Republic: Useful tips.
(ThyBlackMan.com) If you have already celebrated your wedding in your native country, what about experiencing the same feeling of happiness in the Dominican Republic – in this paradisiacal place where you can celebrate a symbolic ceremony and live the moment of love again?
It does not matter when you celebrated this important day of your life. A symbolic ceremony (in other words, a wedding photo shoot) can be celebrated on your first, fifth or any other wedding anniversary.
OFFICIAL WEDDING IN THE DOMINICAN REPUBLIC
Organizing an official wedding ceremony requires much more resources and meticulous preparation in advance. To start with, it is necessary to make notarized copies of the following documents:
Birth certificates of the bride and bridegroom
Divorce/change of name/death certificates (if applies)
Certificates of no impediment to marriage, that confirm that the bride and the bridegroom are not married
After all these documents have been notarized, they should be certified with the apostille in the Department of Justice of your city. Then, all these documents are to be scanned. You should also take the scanned copies of your foreign passports.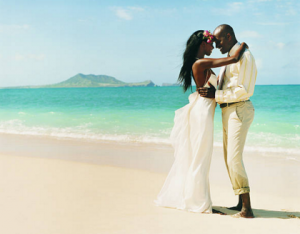 All other formalities with your documents are usually assumed by a wedding agency. Take into consideration that you had better schedule a wedding date in advance so that your wedding planner could agree on a ceremony in a local registrar's office. A judge is the one who announces a confirmed date of any wedding ceremony.
The cost of an official wedding starts from US$1100 besides extra charges for preparation of a wedding ceremony according to the chosen program.
The price of these two types of ceremony (official and symbolic) can also vary depending on the location. For example, to celebrate a wedding on Saona Island, apart from a road vehicle, it is necessary to rent a boat, which implies additional charges.
WEDDING CEREMONY IN A HOTEL: PROS AND CONS
Every year, the Dominican Republic attracts many newlyweds from all over the world. That is why wedding celebration services are very common in this country.
Your tourist agent can offer you a wedding on the beach, which costs from US$300. There are some hotels that even provide such service free of charge. But we would not recommend such option if you are dreaming of a wedding on the seashore, in a private setting without strangers and with high-quality photos.
We do not recommend it because:
Firstly, when the ceremony is celebrated on the hotel territory, a wedding arch is placed a few meters away from chaise longues and sometimes very close to them.
Tourists bravely come close to the newlyweds and start taking photos of them as mementos.
The hotel beaches are usually overcrowded.
On the hotel territory, there are usually photo companies and photographers working for the hotel, and if you wish to invite your photographer who does not work in this hotel (for example, your own English-speaking photographer), you will be charged about US$1000 for his or her presence.
If despite all these factors, you really want to celebrate your wedding in a hotel, here is our tip for you:). You can just buy a hotel room for your photographer as if he or she were your friend – it would cost much less than a fee.
The same applies in cases with any specialist who does not work for the hotel. For example, you will have to buy a Day Pass (one-day stay at the hotel) for your make-up artist. Moreover, hotels often do not allow access for decorators at all, even though hotels do not boast a large choice of decor, thus causing dissatisfaction of their guests.
Besides, various additional services that you might want to buy are usually much more expensive in the hotel than outside.
However, celebrating a wedding in the hotel does have one advantage – you won't have to travel anywhere.
Wedding ceremony outside the hotel
Imagine that you decide to celebrate your wedding outside the hotel. Here we have many questions. Considering time differences between your native land and the Dominican Republic, as well as the language barrier, it will be quite difficult for you to coordinate all actions of a wedding planner, not to say to find a professional specialist and organize additional services, such as transportation and florist's work.
However, don't worry about all the hustle and bustle – wedding planners are always ready to help you coordinate all the activities and organize your wedding day!
WEDDING AGENCY
First, keep in mind that only a lazy one does not say that he or she is a wedding planner in the Dominican Republic! So, be very careful when choosing your wedding agency:
Attentively read reviews and descriptions in the Internet
Contact your wedding planner in advance, pay attention to their communication manner, competence in different questions, ability to give you free advice and recommendations
Cover all the details and prices beforehand
By the way, our company boasts its own wedding department, and we would be happy to plan and organize a wedding of your dreams;)
After that, you have to choose a place for the ceremony:
What is important for you: private beach only for you, white sand or the color of the sea? Probably, all of these?
Do you mind if you have a full day of adventures or prefer not to have a long road?
What about a wedding in the Colonial City, not on the beach?
How about inviting many guests and celebrating a festive dinner near the place of wedding?
You can read more details about beaches in our article:
When choosing a place for your wedding, ask the planner the following questions:
If there is a shadow in that place
If there is a cloakroom or a place to change clothes
If there is a bathroom
If there is a mirror for a bride to touch up a hairdo and make-up
In case of weeds, if they can be eliminated for your photo shoot.
HERE ARE THE MOST POPULAR PLACES FOR WEDDING CELEBRATION IN THE DOMINICAN REPUBLIC:
Saona Island
Cap Cana and Juanillo beach
Macao beach
Cabeza de Toro
Bavaro beach
Dominicus beach
Limon beach
CHOOSING A PHOTOGRAPHER
Some wedding planners work only with their own photographers and do not cooperate with those who are not on their list.
If you work with such planner, ask them to show you the portfolio of that very photographer who will take photos of your ceremony. The thing is that you may like photos of one photographer in the portfolio of your wedding planner, but a different photographer will actually come to work on your wedding. Thus, it is better to clarify this issue from the very beginning.
At the same time, some planners cooperate with different photographers of the Dominican Republic and will be happy to give you the links to their portfolios. Besides, you can find a photographer to your liking and explain to the planner that you want this photographer to take pictures of your ceremony.
In this case, the planner will recalculate the price of the wedding depending on the photographer you chose.
where and how to find a photographer?
You can look for photographers on different special websites such as mywed.
Choose a photographer whose works are really to your liking and read reviews about the photographer.
If you dream of a wedding ceremony in the Dominican Republic, but your budget is limited and not assigned for this purpose, consider organizing a wedding photo shoot with decorations offered by some wedding planners, including our company.
This service will be much cheaper than a wedding, but a bit more expensive than a common photo shoot. Pay attention to the fact that in such case the decoration will be more simple and unpretentious than during a real ceremony and won't include the following:
Master of ceremonies
Champagne
Certificate
Sand ceremony
In other words, it will be a photo shoot in a chosen place, where the planner will set up the decoration.
CHOOSING THE DATE OF CEREMONY
Having chosen a planner, a photographer, and a place for the ceremony, choose and book a date.
Choosing the date of ceremony, it is worth considering:
Many beaches are more crowded during the weekend than on weekdays
It is better not to schedule a ceremony for the last day of your vacation, since in case of unpredictable circumstances (illness, weather), you won't have a chance to postpone your ceremony until next day
We recommend scheduling a ceremony approximately on the 4th day of your stay in the country. It is enough time to get accustomed to the climate, time zone differences and local sun.
Anyway, we recommend using the sunscreen every day.
On the days before the ceremony, it is very important to avoid the sun between 11:30 a.m. and 3:00 p.m. and never sunbathe at midday. However, if you get sunburnt, any defects of photos can be edited in PhotoShop and covered by make-up artists.
But don't forget that sunburns produce negative effect not only on your skin but also on the way you are feeling in general.
Changing the date of ceremony
When scheduling the date of ceremony, speak with your wedding planner about a possibility to change the date if necessary. Such cases occur rarely; however, it is better to consider such scenario.
If the change of the date is due to your will, there may be penalties, but if the change is justified by objective reasons such as long rain or bad weather conditions, you can reschedule a ceremony without any penalties.
Unfortunately, the weather in the Caribbean is difficult to predict, thus, the decision about the postponement of the ceremony is usually taken on the day of the ceremony.
If, for example, you are not feeling well on the very day of your ceremony and cannot participate in it due to health issues, everything can be negotiated right away depending on the circumstances.
For instance, fresh flowers for decoration can remain fresh until next day, however, they won´t look the same in a couple of days.
Besides, keep in mind that your photographer and cameraperson may be occupied on a new date considered for ceremony.
These are the things to be considered with your wedding planner, however, during 4 years of our work, we actually rescheduled the ceremony only once because of the weather conditions. So, just take care, use sunscreen, and do not try new food on the eve of the ceremony.
WEDDING GARMENTS
Once you have chosen and booked the date of your ceremony, start selecting a wedding dress, a suit and a style of the ceremony. It is a very interesting process and most of you might already have an idea of your ideal wedding garment.
When choosing the wedding clothes, don't forget that the air temperature in the Dominican Republic is about 30 degrees above zero all year round!
We recommend opting for the clothes made of light fabric, in which you will feel comfortable.
WEDDING DRESS
If you prefer a classical long wedding dress, we suggest making it a bit shorter to prevent it from getting dirty and wet from sand and seawater.
We also recommend considering short wedding dresses or long split-to-the-thigh dresses. Transforming dresses with a detached tail are also a good choice for a ceremony on the beach.
BRIDEGROOM'S SUIT
A traditional bridegroom's suit and a jacket are not a reasonable option for the beach wedding. That is why choose elegant breathable trousers and a shirt made of light natural fabric.
FOOTWEAR
Choose light and comfortable footwear that will serve you well during your walks along the beach. Keep in mind that high heels and stilettos are not the right choice to walk on the sand. Pay attention to decorative footwear in which you will run on the beach as if you were barefoot, while your feet will be elegantly decorated with lace and ribbons.
A CHANGE OF CLOTHES
We recommend having a change of clothes for a photo session. It will allow you to have photos of you with different looks and get traditional wedding pictures together with romantic "love-story" photos.
CELEBRATING A WEDDING CEREMONY ON SAONA ISLAND
People often ask whether it is worth styling your hair and putting on make-up if the ceremony is on Saona Island. Believe us – it is worth it.
In such case, if your budget allows it, we recommend travelling to Saona Island on a yacht with a cabin where you can stay away from the rain and wind.
If you cannot afford taking a yacht for a trip to Saona, don't worry – wedding planners know how to take you to Saona almost without damage to your hair and make-up.
We recommend taking with you a large beach wrap and hide your hair under it. When you arrive at the island, you will only need to retouch the hair a little bit.
It is also good to sit against the direction of the boat so that water splashes do not reach your face. As for the dress, store it in a waterproof bag.
Investigating further the topic of wedding on Saona Island, pay attention to the means of transportation to the island and what is included in your wedding package.
A standard package usually includes transportation in a boat together with wedding planners and decoration. However, we recommend our clients to rent an extra boat where they will feel better and more comfortable, without many people and decoration.
If you take an extra boat, you travel just with a photographer and a cameraperson (when the package includes their services), and the wedding planners come to the island a few hours earlier to prepare everything for your arrival. Thus, you won't have to wait until the decorations are installed, which usually takes 1-2,5 hours.
So, when coming to the island in a separate boat, you just put on your wedding garments, and the ceremony starts. Then, you have a photo session.
The decor is disassembled after your departure from the island, which is more romantic than observing how your wedding décor is being dismantled right in front of you. Anyway, we are sure that you will be satisfied with the ceremony!;)
WEDDING CEREMONY STYLE AND DECOR
There are wedding planners offering standard decorations in different colors, as well as wedding organizers who apart from standard decorations can elaborate individual décor. The prices on standard and individual décor are usually different.
If you choose from standard variants, consider different colors from the palette or your wedding planner and choose the most attractive color to your liking: a combination of turquoise blue and white is always a good one on the beach and with the sea in the background.
When selecting a color, rely on your favorite colors and the palette of the landscape around you, since sometimes the planners cannot integrate a bright arch into the landscape to achieve a harmony.
Besides, keep in mind that bright colors may reflect flecks on your skin, and photographers will have to eliminate them when retouching your photos.
Feel free to use your fantasy and share your ideas with your wedding planner, since your vision of the wedding is what will make it different from all other weddings. The planners can implement some ideas as part of a standard package, and some ideas for an extra charge.
You can also bring some décor elements, for example, those having a special value for you. Some people take a small hand-made pillow for rings, first letters of their names, a surname or any other minor details that can be used as décor. All these elements make your ceremony unique.
FLOWERS
Take your time in advance to think about a color palette and a selection of flowers for a bride's bouquet and a bridegroom's buttonhole. For a flower bouquet, try to choose flowers that remain fresh for long even in the hot tropical climate.
Think whether you really want to decorate an arch with live flowers – it is not a good idea because the hot sun will dry the flowers so quickly that the arch will lose its impressive look.
ADDITIONAL SERVICES
If you can afford to make your dreams of an ideal wedding come true, do not hesitate to give freedom to your fantasy. Wedding agencies in the Dominican Republic can implement almost any idea:
Arch in unusual form
Bride's flower bouquet made of fruit or rare flowers
Live music
Transportation to the wedding venue in bright cabriolet, retro-vehicle, helicopter or on horse!
Wedding cake in the ceremony style
Romantic wedding dinner for two on the seashore
Services of stylist for bride and bridegroom
If you invite guests to your wedding, why not organizing a bachelor or bachelorette party on the wedding eve and enjoying a big celebration on the wedding day?
Day of ceremony
Make sure you sleep well on the eve of the ceremony to wake up feeling as new and in a good mood! Remember that your good mood is necessary for a successful wedding ceremony!
If you see that the sky is cloudy, don't worry: in the Caribbean the weather can completely change any time. If, however, the sky is dull, don´t feel upset: in such weather, you will receive fantastic photos without getting tired of hot weather!
Anyway, we guarantee that the dull sky is a rare thing in the Dominican Republic! In the morning before the wedding, have a good breakfast – you should be ready and full of energy for a day with so many bright moments!
By the way, we do not recommend drinking champagne in hot weather and on an empty stomach: it may make you feel bad, and it is not what you were dreaming about, is it? A nutritious breakfast on the day of the ceremony is a must-have!
Take a couple of bottles with water from your hotel room. If your driver is coming late, don't worry – you are in the Dominican Republic, and coming late is a common thing here). But give a call from the reception desk or via WhatsApp to your wedding planner and let them know about the delay.
STYLIST's services
It is always easy to use the services of a stylist recommended by your wedding planner, but anyway, have a look at their portfolio before booking the service.
You can also choose a stylist and tell your wedding planner about your choice. The price of a hairstyle by a professional English-speaking stylist in the Dominican Republic is about USD$120-130.
We recommend using professional hairstyle services because local stylists know the specifics of the tropical climate. The hairstyle that is easy to make and looks ideal all day long in your native country may become a mess in half-an-hour in the Dominican Republic because of the humidity level and the wind.
If you still want to put on your make-up and do your hair without stylist's help, try to experiment before the wedding day and see how your hair changes or not due to local weather conditions to avoid unexpected challenges on the day of ceremony.
Having booked the stylist's services, ask about the transportation and the way everything will be arranged on your wedding day. Usually, a driver will pick up a bride and a bridegroom from their hotel and take them to a beauty salon, where the bridegroom is waiting until the bride is ready for the ceremony.
As a rule, all beauty salons have Wi-Fi and coffee shops nearby, where the bridegroom can spend a couple of hours waiting for his bride. However, we recommend that the bridegroom stay at the hotel having a rest and the bride go alone to the salon to talk with the stylist without embarrassment about any personal issues and requirements that she has for the hairstyle and make-up.
In such case, a huge advantage is that the bridegroom will see his bride beautiful and ready for the ceremony without observing the actual preparation in the salon. So, it is better for the driver to pick up the bride from the hotel and take her to the salon, and in a couple of hours pick up the bridegroom who will go to the salon and see the bride already with the make-up and the hairstyle.
If you want the bridegroom to see the bride for the first time in her wedding dress near the arch, ask the wedding planner to provide you additional transportation so that the bride and the bridegroom have their personal drivers who will take them separately to the place of ceremony.
CEREMONY
All wedding planners celebrate ceremonies differently. For example, we organize a ceremony that takes about 20-25 minutes and consists of:
Vows of bride and bridegroom
Ring exchange
Sand ceremony
Signing of a wedding certificate
Festive opening of a bottle of champagne and congratulations
In general, a wedding ceremony consists of traditional rituals. However, a sand ceremony deserves special attention. Its essence lies in the fact that the bride and bridegroom have two vessels on the table, prepared in advance, with sand of different colors. At a certain moment, the newlyweds simultaneously fill the sand into one common vessel.
This ritual symbolizes the unit of two destinies and hearts. The common vessel, in which the sand is mixed in a fancy pattern, can be taken as a memento.
We recommend that you write your vows in advance. A day before the wedding, just go to different places (for example, a bride stays at the hotel room and a bridegroom goes to the beach) and staying alone write your sincere words that you will tell your better half during the ceremony.
You can write the vow on special wedding paper, on a piece of white paper or even in phone notes – it does not matter where you express your feelings, but it is very important to write everything you want to tell to your beloved one on this festive day.
Thus, on the ceremony, apart from the vow that you will repeat after the master of ceremony, you will pronounce your personal vows.
During the ceremony, don't worry about your look and don't check whether there are folds on your dress. Just live this moment you were dreaming about on the Caribbean seashore:)
If there is something worth taking picture of, the photographer will tell you about it later having a chance to take additional photos of you after the ceremony.
If you feel like crying, just cry without embarrassment, since make-up artists use waterproof cosmetics, and looking at your photos after that you will cherish these tears of happiness.
However, please, do not scrub your eyes, but ask for a napkin and softly dry your tears. By the way, it is better to take napkins with you, since not all wedding planners provide them.
After the ceremony, you will have time for rest and a snack to proceed with a photo shoot that takes from 1 hour and more, depending on the photographer, your wedding package and wedding planners.
Later, you will receive your wedding certificate and a vessel with sand before returning to the hotel with your photographer. Don't be shy to go to the hotel in your wedding garments – you will hear many greetings, compliments and congratulations from the personnel and the guests of the hotel.
If you are going to have a romantic dinner in the hotel on the day of ceremony, dedicate at least one hour for a rest after the arrival.
Ask your wedding planners when and how you will receive your photos after the ceremony. Some planners give your photos on CD, while others provide a link to the page in the Internet or a file sharing portal.
We prefer the second option, since it does not take your time for additional meetings. The time when your photos will be ready is determined by wedding planners and photographers.
Currently, photographers may need from 4 days to one month to edit and retouch all the photos. We give you all the photos within a week if it is a standard package.
Editing and retouching videos usually takes more time, always depending on a cameraperson, who may require from 5 days to 2 months for work.
Make sure you agree on all deadlines with your wedding planner in advance not to be concerned about it after the wedding. Take a couple of photos with your smartphone to look at them on the next day and recall these moments.
Things to take to the ceremony
Sunscreen
Cozy footwear
Sunglasses
Bathing suit and towel (optional)
A change of clothes
Wipes
Mirror
Make-up bag
Good mood!
Well, that is all. Now you know how to consider all the details when preparing for your wedding ceremony in the Dominican Republic! We hope that our tips will be useful for you and will help you avoid possible inconveniences. Attention: the Dominican Republic is a miraculous country, and many our clients return home from the honeymoon already waiting for a baby shower 😉 Moreover, in a couple of years they come back to the island and ask us for a family photo shoot).
Staff Writer; Jerry Ford