Surviving R. Kelly – My Thoughts.
(ThyBlackMan.com) I'm not writing this article to defend sexual predators like R. Kelly because I have a deep seated hatred for sexual predators especially those in our community like R. Kelly. Sexual predators like Kelly are among the most hated of inmates in jail and prison because if you ask any other inmate in jail or in prison which type of inmate they hate the most, about 9 out of 10 of them would say "chomo" which is prison slang for child molester.
I heard about this documentary that appeared on The Lifetime Network recently called "Surviving R. Kelly" and it had black women sharing their stories about how they were sexually exploited by the controversial R&B star when they were much younger. I personally chose to watch the documentary because I knew that I would immediately be angry upon watching the documentary.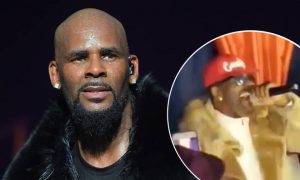 My first thought that came to mind when I heard about this was how and why was Kelly allowed to get away with his sexual predatory behavior for so long? The answer is simple: rich black male figures like R. Kelly are allowed to prey on our young girls, but if he ever did that to young white girls, we know that his career would not only be over, but also he'd be going to prison for a very long time.
The sexual violence that's very rampant in the black community nowadays stems from the legacy of colonialism and slavery when white male slave masters would rape not only black men to keep them docile, but especially forcibly raping black women to breed new slaves to one day work on the plantation.
Here's a family secret of mine that I haven't publicly disclosed until now: There's also a history of sexual predatory behavior in my family because about 5 years ago now, I was talking to a female cousin of mine from her side of my family and she told me something that not only shocked me, but also angered me when she told me that when she and her sister were young girls, they were sexually molested by older male relatives and that their mother and auntie were raped by those same older male relatives. I was extremely angry after hearing my female cousin telling me this shocking secret.
I will admit that I used to be a fan of R. Kelly back in the day when he had hit songs like "I Believe I Can Fly", but once I heard about these allegations that he was preying on our young girls years later, I stood on the side of the victims of his predatory behavior by immediately boycotting him and his music because anyone especially those in our community like R. Kelly who prey on black girls and get away with it deserve to be boycotted and banished from the black community.
R. Kelly, Bill Cosby, and Eddie Long were not the only sexual predators out there because although most sexual predators in America are old white men from watching true crime stories, but we as black people must understand that there are plenty of sexual predators like R. Kelly, Cosby, and Long in our community today preying on young black girls and women and getting off easily and I'm damn sick and tired on it.
Also, another factor that plays into the rampant sexual violence against young black girls and women today is encouraged and perpetuated by corporate sponsored bastardized rap music on the radio in which these corporate puppet rappers say things like "I'll rape her and then murder her" or "Put molly in her drink and she ain't even knew it".
The Conclusion – My stance is that these young black women who were victims of sexual violence deserve to have their voices heard so that our young girls won't have to go through what these black women went through…#DefendBlackGirls…#ProtectBlackWomen
Staff Writer; Kwame Shakir (aka Joe D.)