The comeback of University of Texas' Andrew Jones from Leukemia.
(ThyBlackMan.com) For many college students, college is a special time when young people are able to feel at their most physically and mentally alert in their young lives because they have left the more constricted confines of high school into a setting where critical thinking and open thought are more welcomed. Being at the peak of their energetic prime, college students have the ability to channel their energy in a multitude of ways for academic tasks, social activities, or taking on a various responsibilities associated with being a college student.
College athletes are often pulled in even more directions than the average student because of the amount of preparation, practicing, and training that comes with being a high level collegiate athlete. However, sometimes college athletes face challenges that make their athletic journeys more challenging as the case with University of Texas guard Andrew Jones, who faced major hurdle that affected his life.
During the 2017-18 men's collegiate basketball season, Andrew Jones was expected to be arguably the second most important player on the team next to freshman phenom Mohamed Bamba.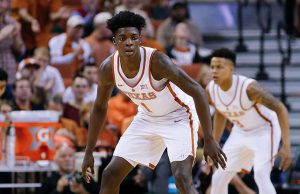 Bamba lived up to the hype during the 2017-18 season and became a NBA lottery pick in the 2018 NBA Draft but Jones had a quality sophomore season cut short. Andrew Jones played very well in 10 games before the University of Texas announced in January 2018 that Jones underwent tests that led to the diagnosis of leukemia. It is difficult for any human being to comprehend having cancer, let alone a high-level college athlete who was also an NBA hopeful.
Leukemia is a cancer of the blood cells that is more associated with children and is more common white Americans than black Americans. In a video by The Players' Tribune that also highlights the relationship with his talented older sister, Alexis, Andrew Jones discussed the process happened that led to his diagnosis, "At first they thought I had a viral infection. Then they thought I had the flu. I'm gonna get some Theraflu, and I'll be good in a week. But it didn't get better. I went and got blood work done, and she told me it was leukemia." Following a difficult and demanding several months after his diagnosis, Jones completed chemotherapy treatment at the University of Texas MD Anderson Cancer Center in Houston in August of 2018.
Prior to the start of the 2018-19 men's college basketball season, the University of Texas was unsure about the status of Andrew Jones playing at all during the season. But he received a standing ovation after making a free throw in the second half of Texas' home opener in November of 2018, his first game since his leukemia diagnosis earlier that year. The head coach of the University of Texas, Shaka Smart, was happy to see Jones' return saying, "It's great to see Andrew out on the court. I loved the way the crowd and everyone in the building reacted to him going in the game."
The University of Texas men's basketball team has high hopes in a season that has gotten off to a good start. They are led by a couple of guards in Kerwin Roach II and Matt Coleman III that are not Andrew Jones but Jones doesn't have the pressure of carrying the team he once did. He can make his return slowly as he battles back from the most difficult challenge of his life with the support of his family, teammates, and fans who are pulling for him every step of the way.
Staff Writer; Mark Hines