Brothers Find Your Michelle Obama.
(ThyBlackMan.com) As I sat there on a cold Sunday night of November 11, 2018 watching the ABC interview with Michelle Obama, I found myself smiling and applauding and wishing that every good African American man could find his Michelle Obama. I also found myself thankful that I did find mine. But with so many women of different shapes, sizes, incomes, potential, careers and dreams out there, why am I saying you need to find your Michelle Obama?
She is not hot like Beyonce. She is not built like Jennifer Lopez. But she is likely smarter than both put together. She is the type woman you want by your side (or you should). She will nudge you to greatness and help unleash your potential within. She is the type of woman who will be a mother to your children, not just a baby machine. She will cover you 360 degrees. She is a lady and always strong but never hood. She makes you better. She encourages you. She advises you. And if you are wise enough to listen, as Barack Obama was, you will go further and fly higher than you may have ever thought possible. Find your Michelle Obama. Stop settling for women who take from you and your vision and find one who will be a part of it – without trying to redefine you. That is not her job.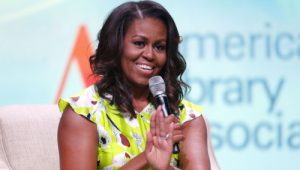 Michelle Obama, formerly Michelle Robinson, was much more than a first lady of class, purpose and intellect. She stood beside her man all the way to the White House. She did things I would say so many  African American women are unwilling or unable to do. And I hope African American women everywhere can learn from her example even before the White House. Michelle deserved to be the First Lady because she earned it. So let's look at why and how a woman like that can be worth her weight in platinum to a good African American man with vision.
IF A WOMAN WON'T STAND WITH YOU AND HAVE YOUR BACK WHEN YOU HAVE NOTHING, SHE DOES NOT DESERVE TO BE WITH YOU WHEN YOU HAVE EVERYTHING
Unlike many African American women, Michelle Obama dated a man (Barack Obama) who made less than she did. In fact, when they began dating, he was still in school and she was already an attorney making money. She mentored him when he was a first year law student. But she never saw him as less and she recognized his potential. It was not about him having everything in place that she thought he should have. It was about spotting potential, real love and being there to help a man with vision. Those traits are the mark of a phenomenal woman who will make an incredible wife.
Today most African American women could not and/or would not do what Michelle did because they are too wrapped up in making everything about what they want. And because they would not, they will miss out over and over again on African American men of incredible potential and vision. Today far too many African American women want to define African American men based on what they think we should have by the time they think we should have it. Vision and potential are often overlooked and/or replaced with immediate expectations of a house, a car, a good income and whatever else women think men should have. And that, for many women, is their mistake. Then they have the nerve to say they can't find any good men. But I have to ask are they good women? Why? What do they bring to the table other than a Christmas list of demands and immediate expectations?
Michelle Obama was a catalyst to the success of her husband. She was the key that cranked the Rolls Royce Barack Obama had within. Ask Barack Obama. She saw greatness in him early but today too many African American women will not even glance at such a thing. Brothers find your Michelle Obama and drop the other women who cannot see your potential, will not stand with you when you have nothing, take away from the foundation you are trying to build or lack the ability to help you fulfill your vision. They are part of the problem, not part of the solution..
Michelle Obama had a 6 figure income that she put on a shelf to help a young man from Hawaii move from community organizer to state senator to the most powerful man in the world for 8 years in a row. Michelle could have been a partner in a law firm and easily made a million dollars all alone. But she had more insight than that. And now the Obama's are worth millions and millions of dollars. Not that it is all about money people, but either Obama likely make more for one speech now than Michelle ever gave up in the early years of Barack Obama's career. She made the right decision and so did he.
Barack Obama's net worth is estimated at $40 million and climbing. Michelle Obama's net worth is $11.8 million and climbing.
As I heard Michelle Obama in the ABC interview say she loved her husband, I heard thunder, passion, commitment, fire and resolve. Brothers that is what you need in the woman you are with. There are women who are cuter with nicer bodies etc. But you will be hard pressed to find an available woman out there who is more powerful in supporting, loving and helping to empower her man. Brothers find your Michelle Obama. You likely have potential that is yet to be unleashed. And the type of woman I speak of is both capable and willing to start from the bottom with you, do what she must and rise to the top with you. While you may be able to do it alone, she can help you get there faster, easier, with fewer mistakes and pitfalls and stay there.
As a veteran marriage, family and relationship counselor, mediator and life coach, I have counseled thousands of men, women and families. And while I clearly acknowledge no man is perfect, this article is not about our imperfections. A woman who is not working with you is working against you. It's that simple. A woman who is not adding to your life and your vision is a woman who is taking away from both and making it harder for you to rise to the top.
DON'T MAKE IT RAIN – LET YOUR CHOICES MAKE THE SUN COME OUT AND SHINE ON YOU!
Whether our African American women want to admit it, want to hear it or not, there are too many of them who are destructive to the African American man trying to do the right thing. There is far too much "real hood wives of where ever" drama that brothers simply do not need.  And you need to stop tolerating that drama. You are not a whipping post. you are not her personal ATM machine. And many of you brothers need to stop playing "baller" and spoiling these women, especially those who are not your wife. Poor choices can mean anything from incarceration to child support court to an empty bank account to you paying a house note in a divorce for a house where you cannot even reside.
If you have to buy a woman (or rent one), you do not know who you are. If you have to impress her with what you have, expect her to go after it and stay with you because of it. Do not work against yourself by giving away the pie while trying to increase the size of it at the same time. Easily the African American male in America has suffered more than any other ethnic group, race or gender. But part of that is because you have accepted that and lowered your standards both for yourself and the woman you chose. That has to stop and you have to draw the lines bold and clear. Correct the problem and rise.
The alarm clock is ringing and I suggest you hear it. this time do not hit the snooze button and go back to sleep. You cannot afford to. Your future is at stake. Find your Michelle Obama.
Staff Writer; Trevo Craw