Naomi Osaka: Deferentially Polite.
(ThyBlackMan.com) As a freelance journalist, this writer has had the privilege to write about local and international talents. There are some very interesting parallels between tennis stars Naomi Osaka and the queen of tennis; Serena Williams.
Most of the recent news coverage surrounding the US Open final between Naomi Osaka and Serena Williams has been focused on the obvious controversy. There is a great deal to unpack about what went on that day between Williams and the umpire, but in the shadow of this conflict has been Osaka herself.
At only 20 years old, representing Japan, Osaka has managed to defeat one of her idols: the great Serena Williams. And yet her sheer talent and grit aren't the only interesting part about her. Amidst all of this success has been what Brook Larmer for The New York Times noted as "a curious tension." Larmer explains how Osaka "is half-Japanese, half-Haitian, representing a country whose obsession with racial purity has shaped her own family's history."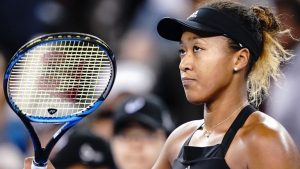 Osaka's own family history serves as a microcosm of fraught racial tensions in Japan. When Osaka's mother, Tamaki, told her own father that she was dating "a foreigner who also happened to be black", she was met with outrage and skepticism. Tamaki left with Francois, Osaka's father. They started a life together despite the backlash they suffered simply for having an interracial relationship.
A parallel in the beauty pageant world
Despite being in vastly different industries, there are some interesting parallels between Naomi Osaka's family history and Ariana Miyamoto, who was Miss Universe Japan in 2015. In seeking to understand the virtue of Osaka, it is also useful to consider the hardships of Ariana Miyamoto in her own career. There is one term, used in a 2015 Washington Post article about Miyamoto, that seems to tie the two women together: "deferential politeness."
The full quote (from Peter Holley) is: "Ariana Miyamoto typically maintains the sort of deferential politeness you'd expect from a beauty contestant in a country that embraces formality." Holley goes on to explain how, despite feeling this pressure to be polite, Miyamoto has also embraced her position to help challenge racism against multi-ethnic people living in Japan. In fact, Miyamoto decided to join the pageant for that very reason. A close friend of hers committed suicide after suffering long-standing stigma simply for being biracial in Japan. In taking up space as a biracial woman, on an international stage, Miyamoto has paved the way for more women like to her to feel accepted.
Osaka's deferential politeness
In a way, Osaka carries a similar responsibility—she has been seen as a trailblazer, too. Osaka's agent, Stuart Duguid, has said that, "I … hope that she's changed cultural perceptions of multiracial people in Japan. I hope she's opened the door for other people to follow, not just in tennis or sports, but for all of society." Clearly, Osaka's success carries cultural significance.
Now, back to the match at hand: in the midst of the controversy surrounding Williams and the umpire in that US Open final, Osaka not only maintained her composure but even apologized for the entire situation. Perhaps more so than Miyamoto, Osaka felt some real pressure to seem inoffensive.
Osaka said: "I know that everyone was cheering for her. I'm sorry it had to end like this. I just want to say thank you for watching the match." Even in what should have been her moment of glory, Osaka felt the need to put herself down. When asked about why she felt the need to apologize, Osaka replied, "I don't know, I just felt very emotional, and I felt like I had to apologize."
A lot of attention has been given to Williams, who has defended her outbursts by calling out sexism in the tennis world. Williams has repeatedly claimed that, if she were a man, her actions would have been brushed off. But Williams claims that she has been treated unfairly and essentially penalized simply for having emotions because she is a woman. Again, there is a lot to unpack there, and one could write an entire (lengthy) article about the issues that William raises. But for today, we'll focus mostly on Osaka.
It's true that there are definite cultural parallels between Osaka and Miyamoto, and that a great deal of these parallels have to do with their experiences as biracial Japanese woman. And yet, there is also a lot to say about their status simply as women, too.
Let's look at that quote from Osaka again: "I don't know, I just felt very emotional, and I felt like I had to apologize." These words almost sound like the concessions of everyday women who feel apologetic for their every move. Maybe they were assertive at work and somebody labelled them as "bitchy." So, instead of standing up for themselves, they do what so many women do every day, at seemingly every possible chance: they apologize.
Osaka had no reason to apologize. Despite your opinion on what happened between Williams and the umpire, Osaka had nothing to do with it. She played a great game and she won. And yet in what should have been the happiest moment of her life, we see Osaka crying.
This isn't to say that Osaka is innocent and Williams is guilty, or that that Osaka is nice and Williams is malicious. Both women evidently feel pressure to behave one way or another due to their status as successful women in sports. On the one hand, Osaka shows how much sexism women tend to internalize. And on the other hand, Williams seeks to challenge how much sexism is clear in our external environments. Either way you slice it, they are both strong women of color projecting a positive image to young girls, of all ethnicities, who aspire to be the best that they can be in sports and in life! Keep up the good world ladies…the world is watching both of you lead by example.
Staff Writer; Stanley G. Buford
Feel free to connect with this brother via Twitter; Stanley G. and alsofacebook; http://www.facebook.com/sgbuford.