Gun violence against LSU's Wayde Sims another sad situation.
(ThyBlackMan.com) It seems that without fail that there is a mass shooting in America on a seemingly monthly basis. The same cycle seems to continue with regularity in America when mass shootings occur. There is an emotional reaction from politicians from both major parties about gun control, gun sales go up, and the satirical news outlet, The Onion, publishes the article with the same headline, " 'No Way To Prevent This,' Says Only Nation Where This Regularly Happens'. It's become the case whether we are discussing gun violence from mass shootings in public places, gun violence in the inner-city, or gun violence related to domestic violence situations. Even professional athletes like NBA player Richard Jefferson can be touched by gun violence as his father was killed in a drive-by shooting last month. There was a recent gun murder of a promising college basketball player that causes another evaluation as to the gun culture in American society.
Louisiana State University basketball player Wayde Sims was born on December 13, 1997 in Winter Park, Florida. As the son of Fay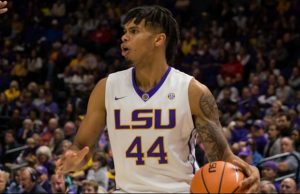 Sims and Wayne Sims, Wayde Sims followed his father's footsteps as a basketball player at LSU after being the 2014-15 Louisiana Gatorade Player of the Year in high school. Wayde Sims chose LSU because he wanted to stay close to home, and said, "This team made me feel like part of a family." His actual family and basketball family are now missing a loved one after Sims was killed in a shooting last month near the Southern University campus. This tragedy happened after an altercation outside a Subway restaurant across from Southern's football stadium on an early Friday morning. Fortunately, the suspect of the murder, 20 year old Dyteon Simpson, was arrested and in police custody.
Wayde Sims, who was a junior on the LSU basketball team who majored in sports administration, is gone but not forgotten by the LSU community. Following the news of Sims' murder, LSU head men's basketball coach, Will Wade said in a statement, "We are all devastated. We need your prayers for Wayde, for his family, for all of us. We are heartbroken." LSU President F. King Alexander said, "To say we are grief-stricken is an understatement. Wayde was a beloved member of the LSU community whose leadership was treasured by his coach and his teammates. I knew him personally and liked him tremendously. The void left by his passing will be immense, and we ask that you keep his family in your prayers."
The first college football game following Sims' death, LSU football and Tiger Stadium held a moment of silence before its game against Ole Miss on September 29, 2018. Also, "Wayde 44" was seen in several spots inside the stadium, including a decal on every placard inside the press box. 44 was Sims' number as a LSU basketball player. It was a nice tribute to a person considered a person raised to be a LSU Tiger.
Gun violence is often viewed as a highly political discussion. There are often racial and class undertones as it relates to gun violence as gun murders have been used as justification for racial profiling and police brutality of black and brown people in America. However, as the rate of black homicide victimization has gone up the past few years, white homicide and homicide-victimization rates have increasing rates as well the past few years. People often forget that crime and murder is intraracial. It is one of the most difficult subjects to approach and attempt to solve.
Staff Writer; Mark Hines