Colin Kaepernick is RIGHT, Facing The Truth and Reality is TOUGH!
(ThyBlackMan.com) Colin Kaepernick, in 2016, in a preseason game in August against the Green Bay Packers, at Levi's Stadium in Santa Clara, California did not stand for the national anthem. Kaepernick commented, "I am not going to stand up to show pride in a flag for a country that oppresses black people and people of color. To me, this is bigger than football and it would be selfish on my part to look the other way. There are bodies in the street and people getting paid leave and getting away with murder. …"
Kaepernick faced reality and refused to look away. What Mr. Kaepernick experienced was an epiphany, an illuminating discovery, realization, or disclosure, as defined by Webster Dictionary. It's really tough, as such clear observances, almost always causes one to collect himself and take a clear examination of "the lay of the land." Taking a clear examination of "the lay of the land," he examined the specifics surrounding the killings of African Americans by errant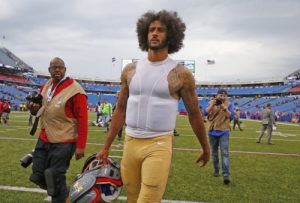 police officers and their proxies. Once looking at the killings of African Americans, by errant police officers and their proxies, he resulted to action. His defiant actions led to the kneeling of other National Football League (NFL) players. Mr. Kaepernick took action within his space!
WHEN WILL  BLACK AMERICA  AND OTHERS,  FIND THE COURAGE TO SUPPORT HIM AND OTHER PLAYERS, WHO ARE FIGHTING TO FIND SOLUTIONS TO STOP THE KILLINGS?
However, Mr. Kaepernick was not the only one who thought these killings were unusual. The Washington Post newspaper did an article on these killings and mathematically calculated, Black Americans were being struck down at a rate of two and one-half times that of their white counterparts, when you consider that African Americans make up 13 percent of the American population, while whites make up 62 percent. What was an epiphany for Mr. Kaepernick was now being statistically validated. There is something going on here. Blacks are being gunned down at an astronomically higher rate, then whites (http://www.chicagotribune.com/news/nationworld/ct-police-shootings-race-20160711-story.html).
Thousands of blacks, if not hundreds of thousands of Black Americans had the same epiphany, as Colin Kaepernick in 2012 with the Trayvon Martin killing. Now, at last, Black America, through NFLPA is knocking at the door of solutions, as DeMaurice Smith, the Executive Director of (the National Football League Players Association) NFLPA stated in this article (https://theundefeated.com/features/nflpa-leader-demaurice-smith-is-against-drop-dead-day-to-resolve-anthem-policy/);
"There have been times when we have tried to engage the league on reaching mutually acceptable solutions, and they've chosen not to do that. This is one of the first times where they have tried to seek a mutual solution. I think it's positive."
Continue to tweet the NFLPA NOW, and keep tweeting them, LETTING them know you stand with them in their search for solutions (it is the least that we can do) @ https://twitter.com/NFLPA by the hundreds and ask them to use part of the money owners have offered them, (90 million dollars), to sponsor a meeting of stakeholders.
Here is my most recent tweet I sent to the NFLPA, if you are looking for an example of what to tweet:
James Davis @Jamesabides1
@NFLPA May God bless you Mr. Smith and NFLPA for your "just position" in standing up, for SOLUTIONS to the killings of Black Americans. A stakeholders meeting where practical suggestions can be vetted and discussed is idea (http://thyblackman.com/2018/05/29/its-not-about-the-kneeling-its-about-stopping-the-killings/)
Staff Writer; James Davis
Mr. Davis is a leading expert and consultant in Financial Analysis and Social Dynamics. He is a graduate of Florida A. and M. University(FAMU), a former stockbroker, and a human rights activist who resides in Sanford, Florida. He was awarded the prestigious Governor Haydon Burns Scholarship to attend FAMU and while at FAMU was awarded the first Martin Luther King Scholarship. He is the author of three books, among them is "The Fix This Time," Boost Your Retirement Income! Simultaneously Create Jobs and Spur Consumer Demand (https://www.amazon.com/dp/B00MI3PD2M).
He can be reached through his blog @, (http://www.thefixthistime.com).