Book Review; The Bible Said That? Misquoted Verses/Phrases from the Scriptures.
(ThyBlackMan.com) The Bible has been translated, retranslated, interpreted, and somewhere along the way, we have seen the evolvement of many verses that are misunderstood or out rightly misinterpreted. Getting biblical stories and scriptures wrong may not appear very important, but it could become very dangerous. The danger of misinterpreting scripture is that it can give false hope to a person when it fails to come to fruition. They could possibly begin blaming God thinking He doesn't love them or even that He doesn't exist. Be careful that someone doesn't listen to your supposedly biblical quote and ask quite frankly: The Bible said that?
Stanley G Buford: Author, Teacher, Freelance Journalist and Entrepreneur celebrates 25 years in ministry (2018), and wanted to show the fruit of his literary Christian labor with this sensational work: The Bible Said That!  A wonderful 5 of 5 Star book! Enjoy the read!
Click on the image Below;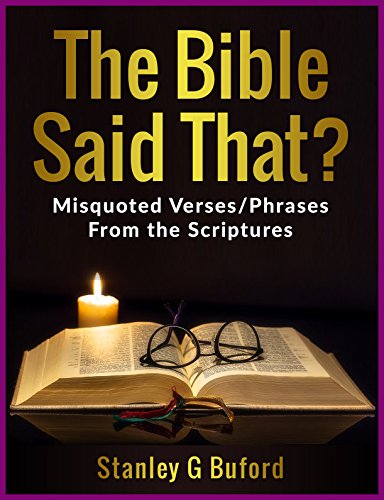 Or visit Amazon; The Bible Said That!: Misquoted Verses/Phrases From the Scriptures.
Staff Writer; Ron Jacobs