Reaction to the historic Supreme Court ruling on sports gambling.
(ThyBlackMan.com) This has been a truly historic week for sports. Earlier this week, the United States Supreme Court ruled 6 to 3 to strike down the Professional and Amateur Sports Protection Act, which for 25 years has limited sports betting to Nevada. This gives states throughout America the opportunity to legalize betting on sports within their respective states. Sports betting legalization has dramatic ramifications throughout professional and collegiate sports in America. There were numerous reactions to this landmark ruling that could lead to billions of dollars moving from illegal sportsbooks to regulated sports gambling.
Supreme Court Justice Samuel Alito, who participated in the ruling, wrote, "The legalization of sports gambling requires an important policy choice, but the choice is not ours to make. Congress can regulate sports gambling directly, but if it elects not to do so, each State is free to act on its own." It is clear that this will give states a better chance to control consumption. Unsurprisingly, the major pro sports leagues in America had numerous statements on the ruling as well.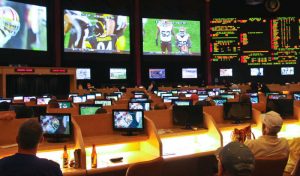 The NBA, which has been observing the potential for legalized sports gambling for a significant period of time, responded to the ruling through NBA Commissioner Adam Silver, who said in a statement, "Today's decision by the Supreme Court opens the door for states to pass laws legalizing sports betting. We remain in favor of a federal framework that would provide a uniform approach to sports gambling in states that choose to permit it, but we will remain active in ongoing discussions with state legislatures. Regardless of the particulars of any future sports betting law, the integrity of our game remains our highest priority."
Major League Baseball, like the NBA, has been proactive about eventual legalized sports gambling and betting. Their statement regarding this historic ruling read, "Today's decision by the United States Supreme Court will have profound effects on Major League Baseball. As each state considers whether to allow sports betting, we will continue to seek the proper protections for our sport, in partnership with other professional sports. Our most important priority is protecting the integrity of our games. We will continue to support legislation that creates air-tight coordination and partnerships between the state, the casino operators and the governing bodies in sports toward that goal."
The NFL also made mention to the importance of the integrity of their game in their statement, "The NFL's long-standing and unwavering commitment to protecting the integrity of our game remains absolute. Congress has long-recognized the potential harms posed by sports betting to the integrity of sporting contests and the public confidence in these events. Given that history, we intend to call on Congress again, this time to enact a core regulatory framework for legalized sports betting. We also will work closely with our clubs to ensure that any state efforts that move forward in the meantime protect our fans and the integrity of our game."
The NHL, whose Vegas Golden Knights became the first professional sports team among the four major sports to play in the legalized sports betting state of Nevada, had an interesting reaction to the Supreme Court ruling. The NHL said in a statement, "The Supreme Court's decision today paves the way to an entirely different landscape, one in which we have not previously operated. We will review our current practices and policies and decide whether adjustments are needed, and if so, what those adjustments will look like. It's important to emphasize that the Supreme Court's decision has no immediate impact on existing League rules relating to sports wagering, and particularly, wagering involving NHL games. So, while changes may be considered in the future, today's decision does not directly impact the operation of the League or any of our Clubs in the short term."
This Supreme Court ruling also has significant ramifications with the NCAA, collegiate sports, and the respective players' unions for the four major professional sports. The amateurism idea that the NCAA so desperate publicly pushes has been under attack in recent years and things just got even more complicated. There will be much more reaction from various states across the country and sports leagues as this ruling is comprehended and evaluated.
Staff Writer; Mark Hines