The Literati: Notes from This is America.
(ThyBlackMan.com) One of the most discussed recent videos of the year was premiered recently by Donald Glover via his moniker, Childish Gambino. In the video, a shirtless Glover gyrates across the lot of a huge warehouse while an assortment of comical yet vengefully wretched acts of violence take place in the background.
Commentators point to the multiple themes of the video. Glover, though, when asked what he intended to evocate, demurred, preferring to allow the observer to draw their own conclusions.
There is, indeed, a vast array of themes presented by the video.
For me, it's not just the American experience which the video most succinctly addresses as much as it is our American experience as black people, and how that experience has shaped us – in Glover's view – in relation to the dominant minority.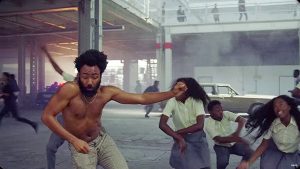 Glover's dancing image is the main attraction – by default. The viewer is intentionally mesmerized by his contortions to the extent that what's happening in the background becomes less and less important.
That's exactly what we are now observing in American culture.
Glover's image is metaphor; substitute any icon of black culture – the church, rap culture, individualism – and it takes its place in the foreground of consciousness – fixated on our collective brain.
But it's not the figure that draws attention; it's what's happening in the background.
Thusly, it makes a statement about not what's happening, but rather our reaction (or non-reaction) to it. The church, for example, is so mesmerized by its never-ending ecclesiastical drama and division that it is paying little or no heed to the burgeoning violence, revelry and dysfunctionality taking place in the backdrop of its mission, right in the heart of its community.
I see blacks in This is America as both victims AND merchants of the violence and apathy which dominate our ethos – the way we relate and don't relate as brothers and sisters – created and sustained by our American experience.
To observe the black condition in twenty-first century America is to see a condition of disconnectedness, estrangement between the sexes and a debilitating malaise that is sewn through the garment of our collectively neurotic experience in America.
The African adage, We are because I am I am because we are, is compellingly absent in this hyper-individualistic culture and, consequently, absent in the way we see one another in and from our blackness. It is happening right here and on our watch.
This is America captures that estrangement quite poignantly; it is an indictment really of 'us' as opposed to the 'other'. It invites the casual observer to interpret current affairs such as police brutality, gun violence, dysfunction – not as something happening to us – but rather what is happening in us. The latter is more frightening than the former.
The dancing, gyrating Childish Gambino is not making a point – he is the point! His figure is the fixation – the glamorous, selfie-drunk, sex-indulgent, egotistic dancing to the beat of the American pied-piper of market affluence, all whiles everything around him – not the least of which is our community – is crumbling.
At the end of the video, Childish Gambino is pursued, much like blackness – or some palatable form of it – is today pursued in America. Gambino's fleeing is really a flight from the Negro masses, from its ugly reminder of what looks like him.
This is America. This is us.
Staff Writer; W. Eric Croomes
This talented brother is a holistic lifestyle exercise expert and founder and executive coach of Infinite Strategies LLC, a multi-level coaching firm that develops and executes strategies for fitness training, youth achievement and lifestyle management. Eric is an author, fitness professional, holistic life coach and motivational speaker.
In October 2015, Eric released Life's A Gym: Seven Fitness Principles to Get the Best of Both, which shows readers how to use exercise to attract a feeling of wellness, success and freedom (Infinite Strategies Coaching LLC, 2015) – http://www.infinitestrategiescoaching.com.