LeBron James, Greatest Ever!!
(ThyBlackMan.com) 15 years into his career LeBron James is still playing at a ridiculously high level. According to data collected and studied by the Sports Performance Research Institute, "Most athletes hit their physical peak around 26 and start to see declines shortly there after." What LeBron James is doing defies human biology and science. I'm not sure if a 33-year-old LeBron could out run or out jump a 26-year-old LeBron, but I'm certain he could beat him in a game of basketball.
The debate around the greatest ever is entertaining; It kills time in sports bars and barber shops, but it doesn't solve anything. Many of the participants in these conversations pass off their subjective arguments as facts. We can Google athletic accomplishments and records, but sports fans will never agree upon a criterion to judge past and present NBA superstars. Is greatness defined by rings, individual achievements, or a combination of the two? If it is a combination, how much do we weight each component? Until sports fans solve this problem people are just sharing their opinions.
A majority of NBA fans born between 1970 and 1980 argue that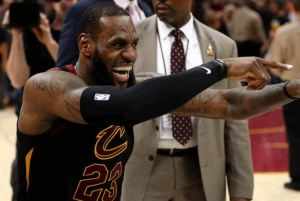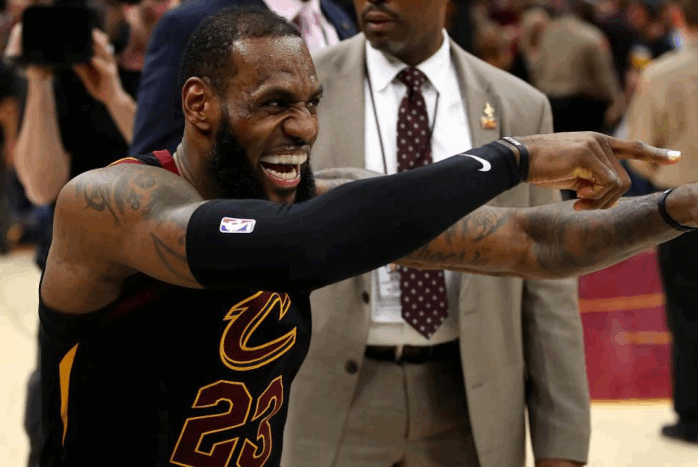 Michael Jordan is the greatest of all time. They point to his six rings and his clutch performances in big games. They get righteously indignant at the notion Kobe or LeBron are in any way his equal, but that logic leads us directly to Bill Russell. He has a ring for every finger plus one he could give the winner of a Charles Barkley/Karl Malone cage match. Number of rings can't be what defines greatness if the man with the most of them isn't part of the current conversation.
If the criterion is based on pure dominance then Wilt Chamberlain should be considered the G.O.A.T. In 1962 he averaged 50 points and over 25 rebounds a game. Let me say that again: HE AVERAGED 50 AND 25 for a season. He also scored 100 points in front of his home fans. I remember watching the highlights of Kobe Bryant's 81. I vividly remember David Robinson scoring 71 in the final game of the 1993-94 season. Scoring is hard! It's even harder when the other team focuses all of their defensive efforts on you. Despite holding 72 NBA records, Wilt's name rarely comes up in these conversations.
Is LeBron James the best ever? I don't know. I have been an Indiana Pacer fan since the late 80?s. I have seen Jordan, Kobe, and LeBron wreck seasons I was sure would end in a championship. What I can say for certain is that there aren't many players in the history of the league to play this well 15 seasons in. LeBron finished the 2017-18 season averaging 27.5 points per game, 8.6 rebounds, and 9.1 assists.
To put this season into context, I wanted to look at the numbers some comparable players put up in their 15th season. Karl Malone and Kobe Bryant were the only players who performed at or above their career averages in the big three statistical categories. Magic Johnson and Larry Bird both retired before hitting the 15-season mark.
Julius Erving 18.1 points per game, 5 rebounds, 3.4 assists
Michael Jordan 20.0 points per game, 6.1 rebounds, 3.8 assists
Kobe Bryant 25.3 points per game, 5.1 rebounds, 4.7 assists
Scottie Pippen 10.6 points per game, 5.2 rebounds, 5.9 assists
Karl Malone 25.5 points per game, 9.5 rebounds, 3.7 assists
The 2003 draft class is all but done. Darko Milicic has been missing for the better part of a decade. Chris Bosh has been out of the league for a few seasons. Dwayne Wade is contemplating retirement. Carmelo Anthony looks like a shell of his former self. Kyle Korver, Zaza Pachulia, and the rest of that class have accepted their fate as role players, yet the first pick is playing as well, if not better than he did 10 years ago. LeBron might not be the best ever, but he has certainly made a strong case for being the most consistent over the longest period of time.
As I type, some kid is in a gym or on the black top practicing post moves; he's trying to get his footwork perfect. In 20 years, future generations will make claims about the greatness of this unknown future superstar with all of the certainty of a Jordan, Kobe, or LeBron fan. As a new generation of basketball fans join the ongoing conversation about who is the greatest, those of us who were fortunate enough to live through the playing careers of past legends would be wise to just enjoy the ride instead of critiquing every twist and turn. Who's the greatest? I don't know, but it has been fun watching these legends make their case- even if my Pacers were often their sacrificial lambs.
Staff Writer; Danny Cardwell
Official website; http://Thoughtwrestler.blogspot.com
One may also follow this talented brother on Facebook; ThoughtW and also Twitter; Thoughtwrestler.