Essential Items You Need in Your Man Cave.
(ThyBlackMan.com) For most men, having a space to call their own is important. In recent years, there has been a rise in the number of man caves in homes all over the world. The best part about having a man cave is that you can decorate it however you see fit.
Taking some time to figure out what theme you want your man cave to have is essential. Once you have the theme in place, it will be much easier to choose the right décor. The following are just some of the most essential items you need to have in your man cave.
A Comfortable Recliner
The biggest concern you should have when constructing a man cave is comfort. Having comfortable furniture is a must in this space, which is why investing in a recliner is essential. Finding a recliner that has all of the bells and whistles is something you should be passionate about.
Modern recliners can do everything from massaging you to charging your electronics. While a top-of-the-line recliner may be a bit costly, it is well worth the money you spend. However, holding out until a furniture shop in your area has a sale could save you money on this purchase.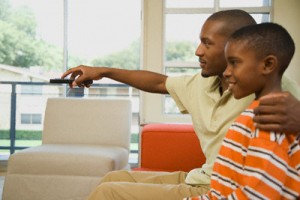 A Television You Can See From Space
When it comes to a television for your man cave, the bigger the better! If you are going to be entertaining friends and family on football Sundays, the last thing you want is for them to have to squint to see the big game. With a large television, you can make watching everything from football to movies more enjoyable.
Investing in a large flat screen television will provide you with the crisp clear picture you need, but wall-mounting the TV will make it look better and reduce the space it takes up. There are tons of wall-mounting kits on the market, which is why you need to do some research before choosing one.
A Fully Stocked Bar and Fridge
A great way to increase the comfort of your man cave is to have a fully stocked fridge and bar. The last thing any man wants when hanging out in their personalized space is to have to waste time by walking upstairs to the kitchen every time they want a snack or a drink.
When hosting parties in your space, a fully stocked fridge will definitely come in handy. If you like draft beer, installing in a tap for your bar is a must!
Let the Good Times Roll With a Karaoke Machine
While watching TV can be enjoyable, you will need more entertainment options! If you are like most people, going out to a karaoke bar is something you do for fun. But, instead of going out every time to experience the joys of a karaoke machine, you can invest in one for your man cave and have karaoke nights whenever you want.
Need help finding a karaoke machine? Consult with a professional in this field to help you make the best choice and get the right karaoke machine for you.
The Joys of a Pool Table
Another great form of entertainment to add to your man cave is a pool table. For years, men have had lots of fun drinking beer and playing pool, which is why this addition is a no-brainer. But, you should know that there are variations in quality when it comes to pool tables.
If you are going to buy a used pool table, you will have to inspect it thoroughly. When inspecting a used pool table, be sure to pay close attention to the condition of the felt and the pockets. If either of them are in bad condition, you need to keep looking.
A Large Poker Table and Dart Board
Hosting a weekly poker night can provide you with a much needed break from the stress in your life and a great way to make your man cave more enjoyable. Skimping on the quality of a poker table to save money will usually backfire, so think about investing in a large poker table and a dart board. Also, buying a large table with plenty of storage will serve you well in the future.
If you are going to get a dart board, be sure to take some measurements before beginning your search. These boards come in all shapes and sizes, which is why having this type of information is helpful.
Who Doesn't Love Sports Memorabilia?
One of the most popular ways to decorate a man cave is with sports memorabilia. Most guys have a favorite sports team and love to show their loyalty by investing in top of the line memorabilia. Chances are you already have some great ones at home.
Rather than getting an earful from your wife about hanging your prized 1992 Dream Team jersey in the living room, you can find a new home for this piece inside your man cave. Putting them in frames and shadow boxes can be a fantastic way to make your prized possessions more appealing.
Extra Seating Should Be a Priority
When entertaining your buddies in your new manly space, you need to make sure they have plenty of space to sit. Spending some money on theater seating for this room will not only allow you to entertain more people, it will also add a higher degree of aesthetic appeal to it.
Movie Posters Make a Great Addition to Any Man Cave
No man cave is quite complete without some posters of iconic movies. Showing your friends your love for classic movies like The Godfather or Scarface is easy with some well-placed movie posters. Instead of spending tons of money on original prints, you can find some quality reproductions that look just as good.
Getting your man cave perfect will require some time and effort, but once you have completed this project, you will be able to bask in all of its manly glow. If you need additional ideas for your space, employing an interior decorator can help you come up with some really unique ones.
Staff Writer; Greg Brown