Is "The Rooney Rule" still relevant today?
(ThyBlackMan.com) One of the more contentious social debates occurs regarding the subject of affirmative action. Most opposition against affirmative action often forget how 20th-century social programs (Social Security, the G.I. Bill, Great Society) benefited mostly white people and were purposefully subverted to be that way by Southern legislators under the old rubric of "states rights". The National Football League has a policy similar to affirmative action called "The Rooney Rule" that is designed to ensure minorities get head coaching and front office opportunities in the NFL.
"The Rooney Rule" was established in 2003 and it requires NFL teams to interview at least one minority candidate when filling a head coaching position or face being fined. 15 years since being established, it is fair to look at how "The Rooney Rule" has affected how many minority head coaches there are in today's NFL.
The Oakland Raiders created some controversy in their hiring process over a month ago with the hiring of former ESPN football commentator Jon Gruden as their new head coach. Gruden, had previous success in the NFL as a head coach in Oakland and Tampa Bay, but there were questions about whether the Raiders had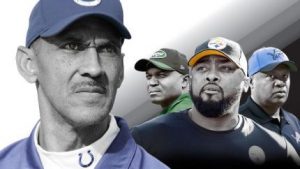 fulfilled "The Rooney Rule" prior to his hiring. The Fritz Pollard Alliance, an organization that promotes diversity and equality of job opportunity in the coaching, front office and scouting staffs of National Football League, called for the NFL to investigate whether the Raiders violated "The Rooney Rule" in hiring Jon Gruden as head coach. The NFL confirmed that the Raiders complied with "The Rooney Rule" after an investigation.
There were seven NFL head coaching openings following the 2017 NFL season. Only one was filled by a minority when the Arizona Cardinals hired Steve Wilks. However, only one minority NFL head coach was fired when the Detroit Lions decided to replace Jim Caldwell. There are currently seven black head coaches in the NFL and there are eight minority NFL head coaches when you include Carolina Panthers head coach Ron Rivera.
There are now as many black head coaches in the NFL as there have ever been in NFL history after there were as few as four minority head coaches in 2013. It is hard to dispute that "The Rooney Rule" has not had an impact when you consider that during the 1990s there was never more than three minority head coaches during any season and since 2003, when the "The Rooney Rule" was established, there have have been several seasons with six or more minority head coaches during an NFL season.
It will be interesting to see if a pipeline of black NFL head coaches will increase when more black men are hired as quarterbacks coaches and offensive coordinators for NFL teams. There are numerous minority starting quarterbacks in the NFL like Cam Newton and Marcus Mariota but they often receive play-calls from white men. The strategic abilities of black men and other racial minorities on the offensive side of the ball will be an important part of the continued success of "The Rooney Rule".
Staff Writer; Mark Hines