Ebola Has Gone, Now Lassa Fever Is Devouring Western Africa.
(ThyBlackMan.com) Maximum alert once again must be! After the horrible ebola times, today, a fever caused by a virus called "Lassa /LF", the Ebola cousin is spreading obviously in western Africa. 6 countries are endemic, Benin, Nigeria, Mali, Ghana, Liberia, Guinee. Is the LF going to turn into a new major health crisis in Africa? In the neighboring countries which are not yet contaminated, governments are worrying and warning people to take care. The dilemma with the highly contagious Lassa Fever is there is no effective vaccine for the disease at the moment.
The Nigeria Minister of Health Prof Isaac Adewole on February 5TH, 2018 at the Emergency National Council of Health in Abuja declared that in his country, the Lassa Fever has affected 15 states by 105 cases confirmed in laboratory, 3 probable cases, 31 deaths and 77 cases by 2018 with 405 suspected cases. In Nigeria, LF is resurfacing. Annually, in the dry season, LF outbreaks. On January 20, 2018, Alassan Seidou the Minister of health of Benin recognized the Lassa epidemic in his country mentioning many cases, confirming 4 deaths. On February 2nd, 2018, the Minister of Health of Guinea announced the first death case by lassa in Guinea. According to the World Health Organization, from December 2016 to June 2017, 175 deaths were confirmed in Nigeria. From January to May 2016, 28 people in Benin died from it.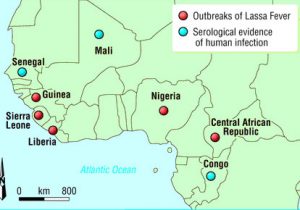 On March 3, 2017 in Burkina-Faso another woman died as a man died in Togo the same day. In 2011, Ghana recorded its first case. The LF moved from country to country with the person contaminated or through someone who has contact with someone else contaminated. Some cases were identified even in Usa in 2015, in Germany 2006 and 2016, Sweden in 2016. As the Atlanta Center for Disease Control reports, in western Africa, every year, between 100,000 and 300,000 cases are identified with approximatively 5,000 deaths. The CDC reveals that among people admitted in hospitals in Sierra Leone and Liberia, 10% to 16% of them got lassa fever. A rodent, a multi-mammate rat, the "mastmoys natalensis" is the main factor of transmission.
Lassa is a viral haemorrhagic fever transmitted to humans via contact with food or any item contaminated with the urine, saliva faeces, and blood of the mastomys. The incubation period is 6-21 days. A early treatment with Ribavarine could help survival. The fever has no particular symptoms, just usual fever signs, general weakness, and malaise at the early onset. Few days after infection, victims feel muscle and chest pain, vomiting, headache, sore throat, diarrhea, abdominal pain. Severe cases show facial swelling, bleeding from mouth, nose, vagina or gastrointestinal tract, low blood pressure. Shock, seizures, disorientation, and coma appear in the late steps.
Complications progress to deafness, transient hair loss and gait disturbance. About 80 % of Lassa Fever infections are mild or asymptomatic. The mastomys are numerous and reproduce rapidly in the dirty places, in the western, eastern, central forests of Africa. They easily invade houses and spaces where foods are stocked. Some countries, Côte-d'Ivoire for example are not already touched but the risk is real.
To prevent the outbreak of Lassa fever in Ghana, the Tema Metropolitan Assembly (TMA) said few days ago it has gotten rid of 80 per cent rats, from the community one market, considering that the important flux of goods and people in the sea port require specific attention. Solomon Noi, Head of Waste Management at the TMA, responding to Class News said TMA took stringent measures to ensure Ghana avoid being attacked by LF. In Nigeria, selling rat killing products become very good business. The Nigeria Health Minister said " Nigeria has dealt with Ebola in 2014, the country reacted strongly and the response was acknowledged by the International community. The success against Ebola created a situation whereby other public health challenge in Nigeria to be a tea party".
People shall protect correctly their foods and call a health center when they suspect someone to be affected. Houses shall be very clean to keep the rodents far. Waste packages shall be sent far from houses. A person contaminated shall be strictly isolated. Some researchs are looking for a vaccine.
Sources; www.cdc.gov, www.who.int
Staff Writer; Abu-Jahlil Astrid Chacha
One may also connect with this brother on Facebook; Segla A.