Three Misconceptions About Mardi Gras.
(ThyBlackMan.com) I must admit, as a native New Orleanian, Mardi Gras is one of my favorite times of year. I grew up going to the parades, and when I reached middle school I was marching the parades I had grown to love. It has always been a great time of family, food, and music…the perfect coming together of culture. When I went to college I was often asked, what I thought to be weird, questions about Mardi Gras along the lines of: are the children allowed to drink alcohol, have you ever flashed anyone, of y'all really have sex in the streets, and why is that even a holiday.
Weird as the questions may have been, by the time they were done asking I was always offended. The misconceptions about New Orleans and those that live there are rather interesting. It seems after Hurricane Katrina more were created, and it never surprised me when those making them had never visited the city. Furthermore, some of the reputation the citizens get is actually based on the behavior of tourist…not locals. New Orleans is a place many feel they can come and be absolutely free without judgement. Mardi Gras to some is the perfect place to be free, but there are three misconceptions about holiday.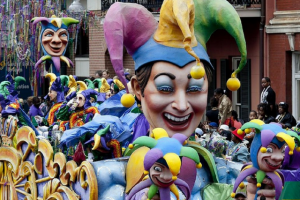 1. Everyone is not drunk. Mardi Gras is not a weekend by which wild collegiate invade New Orleans with the sole purpose of testing exactly how bad can their heads actually get via drinking. Mardi Gras is more about family than merely cutting loose. Many of the locals are excited about marching bands as their children are performing in the parades. They enjoy a time whereby the are eating all their favorite food, and probably partaking of the thing that will begiven up for lent. The children aren't running around drinking led by wayward adults.
2. Everyone isn't flashing their assets for beads, not sexing in the street. There is an image of Bourbon Street with loads of topless women, and all manners of decadent behavior taking place on the side streets. Granted I'm sure some have tried flashing for beads its not the norm. There are families with children out and about for Mardi Gras, and that can't be stressed enough. It's not a sexual free-for-all. Many natives loathe this misconception highly.
3. Mardi Gras is celebrated all over the state of Louisiana. New Orleans is the biggest celebration overall, but you can find parades and balls all over the state. Many schools around the state are closed Mardi Gras Day. It takes all year to prepare for Mardi Gras season. When season ends its immediately time to prepare for the next. It's a holiday here, and we go all out for it.
If you haven't been to New Orleans for Mardi Gras forget the myths, and come down and join us. Look for events that are less geared towards tourists so that you can have a more authentic experience. It is an engrained part of our culture and it's welcoming to all. When you get past the commercialized expectation you'll find that Mardi Gras in New Orleans, there are Mardi Gras celebrations in other states, is a very authentic aspect of the richness of our culture…not merely a crazy gathering.
Staff Writer; Chelle' St James
May also connect with this sister via Twitter; ChelleStJames.