Four Things I Can Control.
(ThyBlackMan.com) The venerable Maya Angelou once wrote, You may not control all the events that happen to you, but you can decide not to be reduced by them. No truer words have ever been uttered! When it boils down to it, think about how many people you know who've been 'reduced' by life – dreams shattered, aspirations abandoned, hopes dashed – ordinary people with extraordinary potential.
I've always pondered what the difference is between those who've lingered in their 'reductions' and those who managed to bounce back from them and get back to dreaming and becoming all they're meant to be. The best answer I have come up with: people in the bounce back group have learned the difference between what they can control and what they may only influence. The difference usually determines whether we keep our sanity.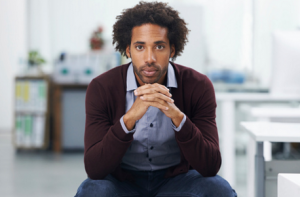 Here's the key: you can control very little what's outside of you. You have much more control over what's inside of you.
Here are four things (among others) I can control.
Attitude
Your attitude, not your aptitude, will determine your altitude.
–Zig Ziglar
One's attitude stands at the top of the list because it's the epicenter of our happiness as human beings. It's a very simple formula: a good attitude virtually guarantees a good result while a bad one results in usually worsening conditions.
We are what we think and believe. Your attitude is the arbiter of that principle. You cannot control someone else's attitude toward you. If you want to soar in life, adjust the wings of your attitude.
Choices
You always have two choices: your commitment versus your fear
–Sammy Davis, Jr.
Choice is aligned with attitude; the better the attitude the greater the choices. One of the greatest pleasures in life is the ability to choose, to think and say, "I choose to…" The problem is most of our choices are based on fear – we fear outcomes! That's what is so beautiful about the power to choose: choice is made between two options. Courage over fear. Power over pity. Success over failure.
My Circle
You cannot hang out with negative people and expect to live a positive life
–Anonymous
Guess what? In life you get to choose who your circle of friends are! What a powerful position to occupy! How many dreams have been abandoned because someone's 'friend' talked them out of its pursuit? How many business ventures went south because one of the partners lacked vision?
How many marriages ended up in divorce court because one of the partners refused to grow? Birds of a feather do indeed hang together. Birds decide whether to fly south or north; birds decide on what to eat; birds decide where to hang out. If you hang out with negative birds, you will never soar free and positive!
Relationship with God
Faith is the gaze of a soul upon a saving God.
–A. W. Tozer
For me personally, this principle is the greatest of all choices. Surveys suggest a growing number of people who now say they no longer believe in a Supreme Being or that they follow no particular religious denomination. It's fascinating to me that the advent of technology has witnessed a parallel of decline in belief and an equally alarming uptick in a sense of hopelessness in our society.
Praise, worship and relationship with God are choices. For many, it's the difference between promise and fulfillment, between faith and fear. The question is, if you do not recognize a Higher Power than you, does that mean you are by default a higher power?
Keep your sanity. Decide what you can control and go with that.
Staff Writer; W. Eric Croomes
This talented brother is a holistic lifestyle exercise expert and founder and executive coach of Infinite Strategies LLC, a multi-level coaching firm that develops and executes strategies for fitness training, youth achievement and lifestyle management. Eric is an author, fitness professional, holistic life coach and motivational speaker.
In October 2015, Eric released Life's A Gym: Seven Fitness Principles to Get the Best of Both, which shows readers how to use exercise to attract a feeling of wellness, success and freedom (Infinite Strategies Coaching LLC, 2015) – http://www.infinitestrategiescoaching.com.