Boost Your Bank Balance: Legitimate Ways To Earn Income From Home.
(ThyBlackMan.com) Most of us struggle financially at one time or another. Maybe you've had to cover a large bill, or your car has broken down. Perhaps you're still getting over an expensive Christmas or an unexpected cost might have cropped up. It's hard, and just about everyone (unless you're very wealthy) experiences this at least some of the time. Instead of really feeling the pinch, one thing you can do is earn a little extra money to help you out, and best of all it can be done from home. Since you'll be working for yourself, you can choose your own hours and it's completely flexible so can be fit around your job and other commitments. Here are a few ideas.
Set Up an Online Business
Online marketplaces like Ebay, Etsy and Amazon allow anyone with a passion or interest to set up their own online shop. You can start selling right away without the need for expensive website design and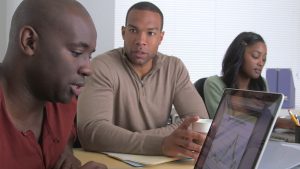 hosting, marketing or anything else. You could buy items wholesale and sell them for a profit, or you could make your own. If you're handy with a sewing machine, with jewellery making, woodwork, animation or anything else- you could sell your physical or digital items. Choose something you enjoy and your online business will feel more like a hobby- but will earn you money!
Work as a Freelancer
Freelance work is particularly good because it gives you flexibility. Once you've signed up and been accepted on a website (you usually need to do a short test first) you can then choose the projects you want to take on. Each piece will have a deadline but it's up to you how many you do so you have full control. In most cases, for things like writing or design work you don't need any special equipment so it's cheap and easy to get started.
Try Binary Trading
Binary trading is a type of trading which advantage of short-term market changes and fluctuations. You can use these to turn a profit and if you know what you're doing it can be a great way to earn some extra cash. Commodities include 6 different types of oil, precious metals, electricity, natural gas and more. Be sure to do your research here, you need to know what you're doing and what the risks are before diving in. But for some people, trading these kinds of commodities online can be a great money earner.
Write a Blog
It takes some time to get a blog established, but if you've been writing one for a while as a hobby, why not take it to the next level? If you make your blog appealing by creating a professional looking design and building backlinks to improve your domain authority, you may well get paid work. Companies will contact you for sponsorship opportunities like sponsored posts and banner ads, which can allow you to earn money from your blog.
Which of these methods appeals to you most as a way to earn money from home?
Staff Writer; Darryl Joy