Winning Back Your Ex-girlfriend Permanently.
(ThyBlackMan.com) According to statistics provided by Oprah, second marriages fail 61% of the time and third marriages 72% of the time – a much higher rate than first marriages. And the same kind of syndrome tends to apply to boyfriend-girlfriend relationships as well.
This problem is even more acute when it's the same two people involved because the causes of the first breakup can repeat and cause a new one. That said, there are many people who successfully win back an ex-girlfriend and even go on to marry her and live happily ever after.
But in order for this to happen, to even have a chance, you first of all have have to convince her to come back. Here are five tips on how to convince her:
1. Stop Dating Others
If you are really serious about getting your ex girlfriend back, you won't be able to convince her of that fact if you keep dating other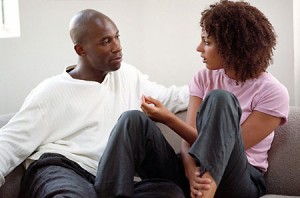 women at the same time you're trying to woo her back your way. You have to be focused and be clear about what you want. Signs of indecision and uncertainty about your goals aren't going to help you in your endeavors. And don't think you're going to win her back by making her jealous – that's not a good foundation for a strong, new relationship with her later on anyway.
2. Be Patient and Think Long-term
Don't try to win her back in a hurry by putting on a big short-term show. Quick flash and cheap charm only go so far – it will take time to show her you're serious about her. You don't have to waste time waiting to just say hello or show basic interest, but don't expect immediate results necessarily. Be in it for the long-term.
3. Don't Give Up If She's Dating Already
If you have to just be a friend for a while, that's ok. Just because she's dating someone else right now, doesn't mean she'll stay with the new guy. If things don't work out in her present dating relationship, she may be willing to give you another chance later on, so again, be patient.
4. Try to Start Small and Go From There
You want to show your ex your interest in her, but you don't want to seem pushy or focus on talking about your loneliness. Try to meet her in a natural way, for short periods, as a friend. See if you can send her a text or two or give her an occasional call (don't overdo it and risk seeming "annoying.) And consider giving her small gifts, that won't seem to her to create any obligation upon receiving them, on her birthday, Christmas, or New Year's Day.
If you can convince her to let you back into her life at all, even in a small way, that gives you the opportunity to grow that relationship in the days ahead.
5. Don't Repeat Past Mistakes
You have to look over your earlier relationship problems with your ex in your mind and honestly assess where and why things went wrong. You can't control her, but you can endeavor to change yourself in a positive way and make yourself more attractive to her. Do more than just try to get her back, work on correcting the mistakes of the past, so you won't repeat them – and you and your girlfriend can have a happy ending this time around.
Staff Writer; Karl Ford