If You Choose CrossFit.
(ThyBlackMan.com) It's a new year, and many people are assessing their health and fitness goals. Some aren't making New Year's resolutions…they are ready to make life changes. Watching loved ones suffer from sickness and disease has began to foster open conversation about taking steps to get ones' body in shape. Unfortunately, that conversation is driven home, and becomes a necessity, when we lose said loved one to death. Granted some illnesses aren't avoidable. However, it is proven that obesity is a gateway to a life of sickness and disease. Once you have decided to make a real change you must get up, and get active. There are many different work out options, and it is necessary to do the proper research on what will work best for you.
Your motivation is riding high, but you can't ignore the current state of your body. You don't want to find yourself sidelines, at the beginning of the game, due to injury. Thousands of people have accepted the challenge that is CrossFit as their method of gaining, and maintaining, their fitness. Granted some avoid the CrossFit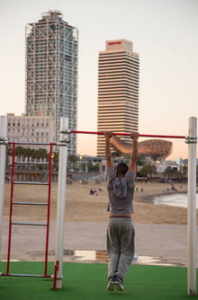 discussion entirely due to the injury risks, but if you are thinking of embarking on that journey there are a few things you'd want to do if you seriously out of shape, or carrying a lot of access weight.
If possible, see your doctor before you begin. This is important because you want to know if you have any conditions that would give you problems during your CrossFit workouts. If you've have past injuries be sure to discuss them with your doctor. Former knee, ankle, back and shoulder injuries can flare up if they are not properly addressed, and this could lead to sever injuries resulting in surgery.
After talking to your doctor if you find that your weight is a liability should you choose CrossFit research alternate options that will land you at your goals via CrossFit. Sometimes we have to be honest about where we are at the beginning of the fitness journey. Non-athletic out of shape is not the same as serious obesity. The presence of weight over certain amount makes CrossFit dangerous from day one. Consider seeking stretch, cardio, light resistance, and a clean diet to begin shredding fat until its safe, weight wise, to join a CrossFit gym (the box). In doing this you are also strengthening your body as you lose which will minimize injury when you find the gym that works for you.
Always listen to your body. The spirit of motivation and competition are addictive. It drives you to want to do more when you are tired, and feel you can't go on. In that spirt it's easy to say "One more set". However, if your joints don't feel stable you may also know "one more set" could equal your last set for awhile if you fracture or shatter a bone. Though that may sound extreme its far from such. Listening to your bodies limitations are very important. Know the difference between pushing past a plateau, and pushing your body to injury.
Lastly, if you Choose CrossFit fins the gym, Box, that feels right to you. Be sure to let your trainer know of any injuries or limitations you have so they can help you have a workout that will work best for you. Always ask questions regarding technique for exercises when you don't quite understand. Know that your fitness, and health is still your journey even within a community. That path is owned by you.
Staff Writer; Christian Starr
May connect with this sister over at Facebook; https://www.facebook.com/christian.pierre.9809 and also Twitter; http://twitter.com/MrzZeta.