Dr. Martin Luther King, Jr. and Muhammad Ali: Powerful Parallels.
(ThyBlackMan.com) The month of January is known for being a beautiful start to a new year, cold climates, and eye-opening snow in many U.S. states. It is also the birth month of many historical luminaries including political activist Angela Davis, businesswoman extraordinaire Oprah Winfrey, and famed music composer Wolfgang Amadeus Mozart. Two of the most famous people ever born in January are Dr. Martin Luther King, Jr., born January 15, 1929, and Muhammad Ali, born January 17, 1942. Despite being born over a decade apart, both men share some similarities in philosophies beyond the incredible legacies they leave behind.
It seems contradictory that Dr. Martin Luther King, Jr., who is often viewed as the black epitome of a peaceful pacifist, would compare to Muhammad Ali, who fought and beat other men for a living as a professional boxer. However, it is impossible to categorize King or Ali as one-dimensional given their impressive and vast intelligence and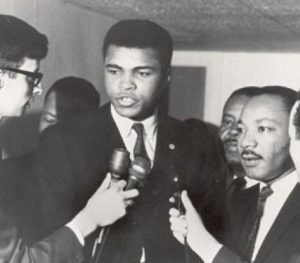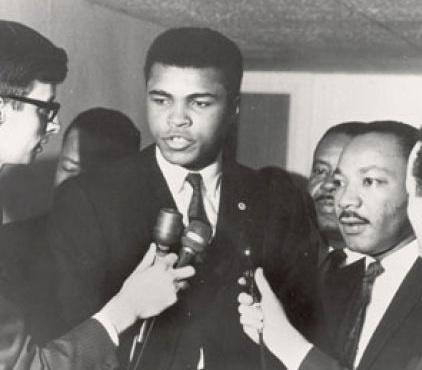 charisma. Both men were strong figures during the Civil Rights Movement for different reasons as they got involved in various ways. Over the course of their lives, Dr. Martin Luther King, Jr., and Muhammad Ali showed through their actions and their words how committed they were to black people and overall humanity and even communicated to each other through telegrams prior to King's assassination.
Although America currently seems committed to "endless" war, it was clear over the lives of Dr. King and Muhammad Ali that they were vehemently opposed to America's occupation in foreign countries. When refusing induction into the U.S. Army during the time when the U.S. was involved in the Vietnam War, Ali famously said, "My conscience won't let me go shoot my brother, or some darker people, or some poor hungry people in the mud for big powerful America. And shoot them for what? They never called me nigger, they never lynched me, they didn't put no dogs on me, they didn't rob me of my nationality, rape and kill my mother and father. … Shoot them for what? How can I shoot them poor people? Just take me to jail."
Among Dr. King's many references to the perils of war during his "Beyond Vietnam" speech, "We have destroyed their two most cherished institutions: the family and the village. We have destroyed their land and their crops. We have cooperated in the crushing of the nation's only noncommunist political force, the unified Buddhist Church. We have supported the enemies of the peasants of Saigon. We have corrupted their women and children and killed their men."
It was also very clear that both Dr. Martin Luther King, Jr. and Muhammad Ali were pro-black. Even though Ali's boxing talents brought him fame and fortune, he remained aware of the treatment of other black people in America. He once exclaimed, "I know I got it made while the masses of black people are catchin' hell, but as long as they ain't free, I ain't free."
Dr. King didn't mince words in voicing how black people deserved compensation for generations and generations of unpaid labor and discriminatory polices when he famously wrote, "Whenever this issue of compensatory or preferential treatment for the Negro is raised, some of our friends recoil in horror. The Negro should be granted equality, they agree, but he should ask for nothing more. On the surface, this appears reasonable, but it is not realistic. For it is obvious that if a man enters the starting line of a race three hundred years after another man, the first would have to perform some incredible feat in order to catch up."
Staff Writer; Mark Hines