No Papa John's Here.
(ThyBlackMan.com) The works is a pretty decent pizza, when jalapenos and extra cheese is added, and I've ordered such in the past with no thought. Papa John's began to agitate me when they took a fighting stance against any policy that would better life for their employees. They don't want to raise minimum wage, and the Affordable Cares Act was just a bit too much. I mean why should they care if their employees make a wage they can actually live on, or have health care? While all of that fuss was being made some of us noticed Papa John's stadium going up, and realized they had a bowl game in college football. It's not that they couldn't afford to invest in their employees…they simply chose not to. Just when I thought Papa John's couldn't become any worse they proved me, and millions of others wrong.
John Schnatter, Papa John's founder & CEO, if your sales are bad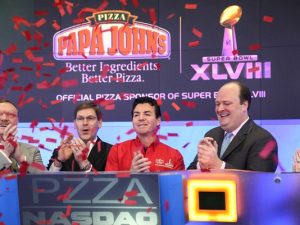 maybe it would be advantageous to work on marketing, or your product. Instead Papa John's chose to blame the player protests in the NFL for the decrease in sales. We may never know if that had a true effect, as Papa John's is a large NFL sponsor, but his commentary has the potential to have a negative on the future of their sales.
Apparently, Papa John's, as did others like them, didn't take the cause of the protest into consideration before speaking. I for one will never purchase pizza from Papa John's again, nor support any product they promote. It is important that we remember the power of our dollar. When companies take positions that we deem offensive it is important that we withdraw our financial support.
There is a way to do everything apparently John Schnatter didn't get that memo. Due to the stance he has taken regarding the NFL, the Affordable Cares Act, and his support of Trump the Alt-Right want to brand his business as one they support when they want pizza. John Schnatter found himself having to defend the brand that is Papa Johns as one that does not support racism.
"Peter Collins, senior director of public relations at Papa John's, was quick to shoot back with a statement disavowing the chain's new fans: "We condemn racism in all forms and any and all hate groups that support it," he wrote in a press release. "We do not want these individuals or groups to buy our pizza."" The problem is they claim to condemn racism, yet they don't stand with the reason for the protests. Instead of being upset with NFL players John Schnatter, and Papa John's, should be calling this nation to fix the issues of injustice in this nation.
Papa John's lost a customer in me. No one in my family will be ordering pizza from them, and we will encourage others to do the same. It's very important to hold the places that we spend our money accountable when they take unfavorable stances on social issues. I guess I'll have to stick with Pizza Hut, who clearly stated that protests aren't affecting their business at all.
Staff Writer; Christian Starr
May connect with this sister over at Facebook; https://www.facebook.com/christian.pierre.9809 and also Twitter; http://twitter.com/MrzZeta.