6 Reasons Why You Are Not Successful In Job Interviews.
(ThyBlackMan.com) So you've got the final decision on your job interview and it's a 'No' from the company. Sometimes things don't go in the way we want, but there are always reasons behind success and failure. It's not bad luck that hit you, it's something more important and practical. So rather blaming bad luck for a failure, check why you're not successful in job interviews.
1. You or your resume lied
Did the interviewer ask you anything related to what's written on your resume? Did you provide the accurate information? If your resume says something which is different than what you're speaking, the interviewer will have no other choice than believing that you are lying.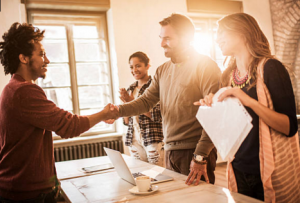 Check your resume carefully. The next time you knock any interviewer's door, go with the right information. Don't hide anything because it will get caught and you'll be in trouble again. No matter how uncomfortable you feel, tell the truth. Everybody loves honest and direct answers.
2. You sound desperate
Don't behave like a desperate dater. When people are tired of searching jobs or sick of working for the same company, they want a change as soon as possible. But when an opportunity knocks the door, they don't look interested, they look desperate. That "I can do anything for you" attitude kills the interview badly. You may want more money more work and more growth, but you should always understand that you need to maintain a class. Even if you're jobless and broke, don't show people that you need a job just because you're broke.
3. Being overconfident
This one is really hard to believe for anyone who is overconfident. A person who is overconfident can never see this bad quality in himself. For him, it's the power of his knowledge and skills, but in reality, it is stupidity, and no interviewer would want to hire an overconfident person for the company.
If you know someone who can analyze your character accurately, ask for opinion. Tell them the reason why you need help, and a good friend will surely help you with honest opinion.
4. You know nothing about the company
You can't expect a company to give you a job even when you know nothing about it. It's impossible. If you don't know anything about the work or responsibilities of the role you are applying for, it means that the interviewer has many reasons to justify why you are not a good fit with their organization.
Most companies provide you some information before the interview. Information such as the name of the interviewer and company background details. You can use such details in your research about the company and people you're going to meet.
5. You're nothing more than a 'yes man'
A job interview is not only about how much you know about the company and job profile. Interviewers judge you on different parameters that include your communication skills and problem-solving skills as well. A company wants to know how you will react to different situations. Companies want to know how you speak and how do you respond to different things. If you're the one who always says 'yes' to please the interviewers, don't expect positive results because a successful company won't hire a machine through human resource department.
6. You're not going the 'extra mile'
Usually taking one extra step helps a lot. There are many ways to do so. You can create a good portfolio and even if it simply remains unopened, it looks pretty good on the table. A nice conversation with the interviewer while being in the limits can help you win the job offer.
If you really want a job, do everything possible to earn it. Practice as much as you can, don't go with a generic, template-based resume, and focus on winning.
Staff Writer; Corey Shaw
Have any Tech Tips? News? Hit up our Tech Guru at; CoreyS@ThyBlackMan.com