Eminem Went After Trump.
(ThyBlackMan.com) Eminem is trying to make a fan of me, and that's not easy to do. At this year's BET Hip Hop Awards he took his moment in the cypher to spit FIRE at the current president. I must say I watched in sheer bliss, and I felt that his anger was needed. He went after Trump in classic Slim Shady fashion. Granted it wasn't his best set of bars, but the content was more profound that the delivery.
Yes, I know some black folks are a bit up in arms because of the amount of fuss his bars have causes, while others black artists have said the same thing and it has fallen on deaf ears. I get that argument, and there is truth to it, however there may be a reason as to why Eminem's words seem to be ringing louder than our own.
First, of all a validated white artist in Hip Hop needed to blatantly speak out against Trump. Eminem does make money off his black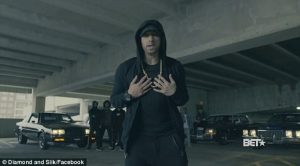 fan base, as well as the write, so he was going to have to defend one or the other. Staying silent would mean betraying his black audience whether you realized it, or not. Furthermore, let's remember Eminem has a vast fan based that reaches Trump supporters.
When black artists are speaking out they are talking to us, and white folks can easily turn them off without a thought. Granted, they will take a second look when its Eminem, because regardless of his validation with us he is still a millionaire white man in America. Even if they don't agree, white people may be willing to hear what he had to say. We also can't ignore the fact that Eminem called out his fans that are Trump supporters calling on them to make a choice. In doing that he risks losing a large part of his white fan base…that equates to money people.
Lastly, dear black people there are enough white people that are genuinely taking a stand against our humanity. Some that do it thought it was cool to kick it with us for a season only to turn around and behave in a racist manner…Kid Rock comes to mind. You're right, we should be able to raise our voice and be heard as citizens without backup. Unfortunately, we aren't in that place yet in this country.
Eminem, a white man, challenged a white man, and those that stand with this white man. We must acknowledge it for what it is…profound. In order to get justice in this country white people will have to deal with their own.
Staff Writer; Adonicka Sassy