The Four C's of Teen Achievement.
(ThyBlackMan.com) For years now we have heard the pro and con arguments about the so-called achievement gap between white and black students in the United States. The gap itself refers to the chasm in proficiency scores that are linked to socio-economic status and attainment. Quality of schools, family structure and neighborhood quality have all been cited as major contributors to the education fault lines in our country.
In spite of this, there are millions of African American students who are excelling academically against the odds. Our task as parents, guardians and educators is to infuse our scholars with a personal achievement system of thinking that will extract exemplar effort and lead to academic success.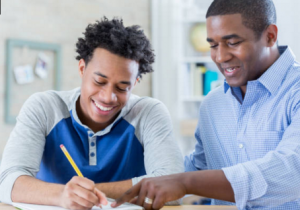 In this culture of constant change and increasing polarization, what our teens should understand is that it's less about elevating to the standard of a different ethnic group and more about achieving the best of who they are.
The Four C's of Teen Achievement is, in actuality, a 'success loop' or 'mind-set' and is founded on the following principles: conformity, choices, consequences and courage. Use the following as a 'talking points' memo on the importance of lifting a positive from a negative and thereby lifting one's academic and personal success.
Conformity
The opposite of courage in our society is not cowardice – it's conformity, writes Rollo May. Conformity is the first step toward chaos. What is conformity? It's the conscious decision to follow the group, move lockstep with the crowd, to do something because everybody else is doing it. On a deeper level, it's a fear of one's own power, of one's own design and one's own thinking. The lure of conformity is strong; buttressed by the allusion of acceptance and belonging.
You can either conform and guarantee mediocrity or believe in your own ideal and excel.
Choices
J.K. Rowling writes, It is our choices that show what we truly are, far more than our abilities. Once conformity happens, choices become murkier.
We speak often of making the right choices, but 'un-choosing' is an even greater power in achieving success. To 'un-choose' is to make up in your mind that you can always choose better and that your present course of action will likely produce zero positive outcomes.
Like conformity, 'un-choosing' is difficult; often it results in a feeling of isolation and a morbid fear of being 'different'. 'Un-choosing' must become the new normal for our kids.
Consequences
What connection is there between choices and consequences? Alfred A. Montapert describes it succinctly: Nobody ever did, or ever will, escape the consequences of his choices.
Unfortunately, we don't always get to choose the consequences of our choices. If we don't commit ourselves to the ideal we wish to see become a reality, the consequences are incalculable.
Understanding consequences gives greater brevity to our power to choose.
Courage
All you need is the plan, the road map, and the courage to press on to your destination, opined Earl Nightingale.
Courage is a rare quality. It requires courage to not conform; it requires courage to make the best choice; it requires courage to understand and withstand the consequences of our choices. It takes courage to be successful, to go against the grain.
Courage is the first ingredient in forming a new ideal, from which will proceed new habits, new behaviors and new outcomes.
Let's teach our kids to be the best of who they are.
Staff Writer; W. Eric Croomes
This talented brother is a holistic lifestyle exercise expert and founder and executive coach of Infinite Strategies LLC, a multi-level coaching firm that develops and executes strategies for fitness training, youth achievement and lifestyle management. Eric is an author, fitness professional, holistic life coach and motivational speaker.
In October 2015, Eric released Life's A Gym: Seven Fitness Principles to Get the Best of Both, which shows readers how to use exercise to attract a feeling of wellness, success and freedom (Infinite Strategies Coaching LLC, 2015) – http://www.infinitestrategiescoaching.com.